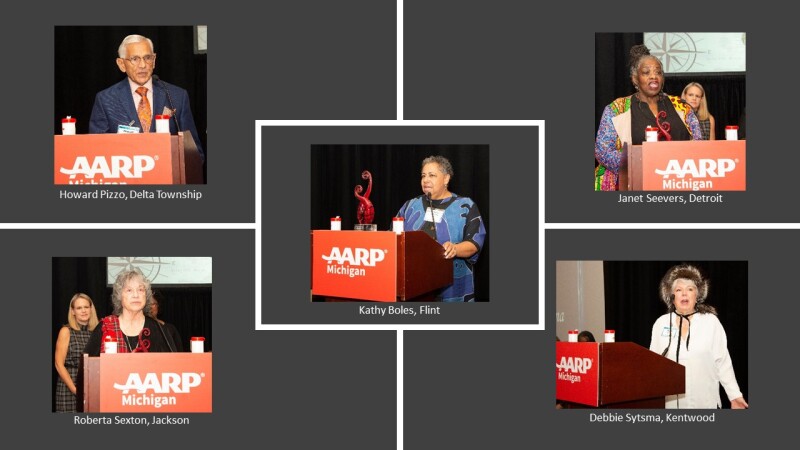 AARP in Michigan is proud to recognize five outstanding volunteers as 2022 Shining Star Award recipients, including Kathy Boles, Flint; Howard Pizzo, Delta Township; Janet Seevers, Detroit; Roberta Sexton, Jackson; and Debbie Systsma, Kentwood.

The prestigious Shining Star Award recognizes the most outstanding AARP volunteers in the state who are making a difference in their communities in ways consistent with AARP's mission, vision and strategic direction. Shining Star Award recipients are nominated by their fellow Michigan volunteers.

"In a state where we are fortunate to have so many wonderful and dedicated volunteers, we are proud to honor those who have truly gone above and beyond during this past year," said Paula D. Cunningham, State Director for AARP Michigan.

Each of this year's Shining Star Award winners are a driving force within their respective communities.

"Kathy (Boles) is the definition of a frontline leader committed to supporting the 50+ population in Flint live their best lives," Kimberley Bishop, Associate State Director said. "Her on-the-ground work to engage the community is elevating our impact in new and meaningful ways, making us better than ever." Bishop noted Boles' efforts to recruit new volunteers and bolster the organization's presence at events and through speaking engagements where volunteers deliver important need-to-know information to the community.

"There's no doubt Howard Pizzo has been instrumental in changing the landscape for the better for those 50 older," said Karen Kafantaris, Associate State Director. "He's the first to step forward when we put out the call for volunteers to rally behind a cause and the passion he brings to those efforts is contagious." Kafantaris specifically noted Pizzo's commitment to the community and willingness to be on the frontlines working with legislators.

"In Detroit, we are blessed because AARP never skips a beat, not even during the pandemic, thanks largely to Janet (Seevers) and her commitment to our older residents," Brenda Price, Associate State Director said. "She truly exemplifies AARP's motto to serve, not be served which she lives and breathes through her many roles on our team." Price pointed out Seevers' work in the organization's Detroit Information Center in particular, where she connects older adults to the services they need and her effectiveness as a presenter on fraud and new technology. Seevers, Price commented, was particularly important during the pandemic in helping people navigate Zoom and stay connected to family and friends.

"Roberta Sexton has literally taken the bull by the horns on several fronts to deliver big results for the 50+ community." Kimberley Bishop specifically noted Roberta's leadership in bringing AARP's messaging on brain health to a world audience at the Lions International Forum in Alberta, Canada, potentially opening the door to more global collaboration.

"We have some great momentum in and around Grand Rapids and that's because of Debbie Sytsma, who simply lives and breathes our mission to help the 50+ population live their best lives," said Jennifer Feuerstein, Associate State Director. "She does so by rallying the troops and driving volunteer momentum in Kent County." Feuerstein highlighted Sytsma's leadership in bringing more volunteers into the fold through onboarding and training, and her service as the Outreach Coordinator for western Michigan where she organized AARP volunteers working at in-person events.

AARP Michigan's 2022 Shining Star Awards recipients were recently honored for their dedication, leadership and service at an awards ceremony hosted in Ypsilanti, MI.

To learn more about volunteer opportunities with AARP, visit aarp.org/MI, send an email to MIAARP@aarp.org or call 866-227-7448.

For media inquiries: Cathleen Simlar, csimlar@aarp.org.