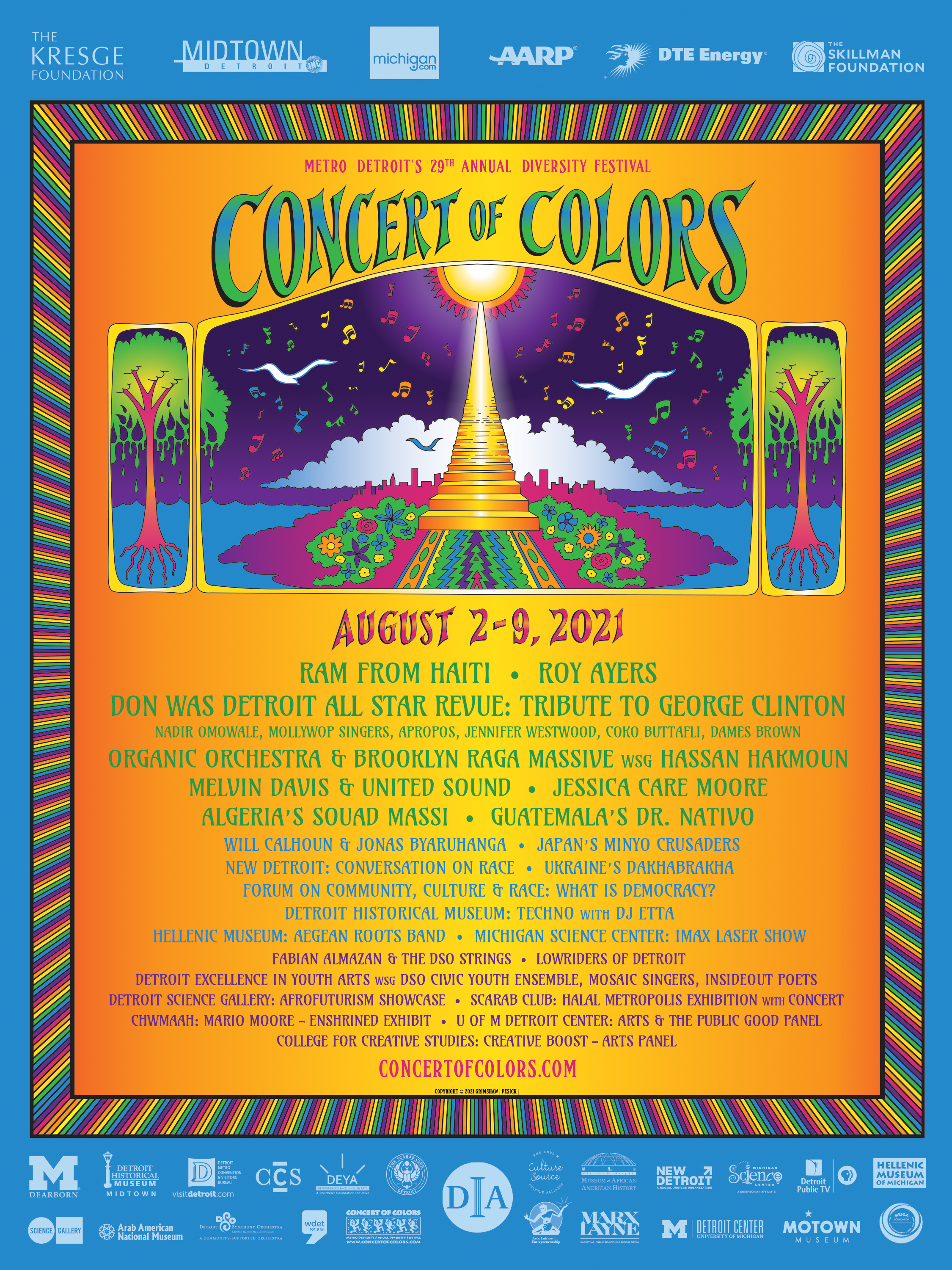 AARP is a return sponsor of this year's free, multicultural event: The 29th annual Concert of Colors from Aug. 2-9.

The global music festival -- which features music from the U.S., Japan, Haiti, Algeria, Morocco, Ukraine, Greece and others -- can be seen on Detroit Public Television, heard on WDET 101.9 FM radio, and streamed on www.concertofcolors.com

Also, this year, a few events will return to live, in person.

Multiple Grammy Winner Don Was (Producer Rolling Stones, Bonnie Raitt) hosts his 13th Annual Don Was All Star Detroit Revue and tributes funk legend George Clinton – that will be televised on DPTV on Aug. 7 at 9 and 10 p.m. from the stage of the Detroit Film Theatre. It will also be broadcast on WDET 101.9 FM and streamed on www.concertofcolors.com at the same time.

Live events return at the Scarab Club (Jazz and Sufi music), the Hellenic Museum for live Greek music and more.

"As we all know, the world is craving concerts after being locked down for nearly 18 months," said festival Executive Director and Founder Ismael Ahmed. "This year, we have curated an exciting eight-day festival of global music, art, food and cultural discussions that are live, broadcast and streaming. In addition, we get to dance to live music and enjoy broadcast concerts in our homes because of Detroit Public TV-WTVS and WDET. The commitment and generosity by our partners and sponsors to create this year's event during the pandemic is a gift not only to Detroit but to the world."

Concert of Colors acts include Jazz great Roy Ayers, Organic Orchestra & Brooklyn Raga Massive with guest Hassan Hakmoun presenting Ragmala; Detroiter Jessica Care Moore, Algerian singer Souad Massi, Japan's Minyo Crusaders, the Ukrainian quartet Dakha Brakha plus Sufi music, Jazz, Techno and much more.

"AARP Michigan is proud to once again sponsor the Concert of Colors," said Paula D. Cunningham, State Director of AARP Michigan. "This multiculturally rich event very much reflects the diversity of the Detroit community and affords audiences a unique opportunity to experience incredible music from Detroit and around the globe."

See the full schedule on www.concertofcolors.com to learn when tune in to DPTV, WDET or watch online at www.concertofcolors.com – or attend a live event scheduled on the site.