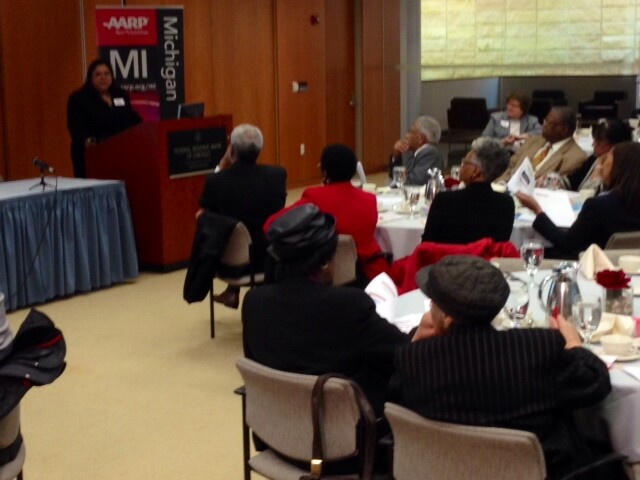 More than 60 government, business, union and civic leaders from Metro Detroit participated in AARP Michigan's "Keep the Promise" event on April 3, which focused on financial security in retirement and the plight of Detroit retirees due to the city's historic bankruptcy.

The lively two-hour program at the Federal Reserve Bank in Detroit featured presentations from Attorney Robert Klausner and Gerri Madrid Davis from SASI, and a panel discussion with community leaders moderated by Detroit Free Press Columnist Susan Tompor.

Klausner, an expert on public employee pension funds, said of the Detroit bankruptcy case and the proposed reductions in city retiree pensions: "This is a huge test for retirement security in the nation."

He said a million hours of worker service "are about to be reduced to a half million." He also noted that bondholders, by the nature of their business, expect certain risks. Employees simply expect to receive their promised salary and benefits.

Robbin Rivers, a retired Detroit police officer, remarked: "I have worked 35 years and now they're taking everything away from me."

Madrid Davis reviewed the AARP 2014 financial security agenda, noting that many Americans have underfunded retirement accounts and that one in six seniors live in poverty.

"Many Michiganders don't yet realize their golden years may not even be bronze," she said.

Regarding solutions, she said AARP is calling for: Keeping and improving tax incentives for people to save; strengthening and protecting Social Security; doing a better job of helping people understand the importance of saving; shoring up underfunded pension systems; and expanding access for individuals to retirement savings plans in the workplace.

This was the first of three forums on retirement security issues, said Jacqueline Morrison, State Director of AARP Michigan. The others will focus on older workers, Social Security issues and recognition of seniors as an economic engine in the state.

AARP Volunteer Annie Mae Holt of Detroit said she found the forum informative and engaging.

"AARP represents a stand-up interest in the preservation and enhancement for the quality of life for all," she said.