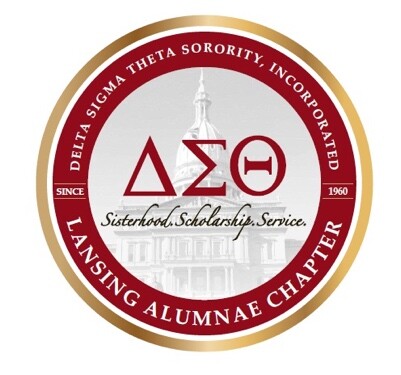 A campaign to energize the African American faith-based community to turn out at the polls in the Lansing area Nov. 6 has been launched by Delta Sigma Theta Sorority, Inc. and AARP Michigan, in partnership with the Skinner Leadership Institute.
The 2018 Turnout Sunday Campaign, especially targeted to voters 50 and older, will reach congregations at 10 Lansing area churches on Oct. 28 and Nov. 4. Churchgoers will hear about the importance of the 2018 Midterm Elections, what to expect to see on the ballot, location of polling places, and other information.
In March of 1913, nearly six weeks after its founding, several Delta Sigma Theta Sorority, Inc. Founders marched in the historic Suffragist March under the Delta Sigma Theta Sorority, Inc. banner, the Sorority's first public act. "Today, the Lansing Alumnae Chapter continues what was started over 105 years ago, as we push to mobilize and educate voters across the greater Lansing area," said Pamela Ford, President of the Lansing Alumnae Chapter of Delta Sigma Theta Sorority, Inc. "We cannot tell people how to vote, but we want them to feel empowered in their vote."
AARP Michigan staff and volunteers will distribute information about seven tips for voting and the AARP national "Be the Difference. Vote" campaign.
"Critical issues like Medicare, Social Security, family caregiving, prescription drugs and financial security are all on the line in this election," said Paula D. Cunningham, State Director of AARP Michigan. "Use your vote to hold the politicians accountable and make them pay attention to the issues that really matter to you."
Michigan is among six states targeted for intensive voter engagement. The 2018 Turn-out Sunday Campaign offers educational webinars and guidance on hosting voter education and mobilization activities such as: prayer breakfasts, National Turn-out Sunday Services, and get-out-the-vote trainings, to equip pastors across the nation with vital tools such as:

Information about what's at stake in the 2018 Midterm Elections;
Pastors' and churches' rights when participating in elections;
Pre-election engagement activities;
Election Day turnout planning and support.
Delta Sigma Theta Sorority, Inc. and AARP Michigan are grateful to local churches that have made a commitment to ensure their church membership is educated and ready to vote in the upcoming Nov. 6 General Election. Both organizations will have representation at the churches in the Greater Lansing area.
To learn more, visit the churches listed below on the accompanying date:
FAITH FELLOWSHIP BAPTIST CHURCH
1001 Dakin St
Lansing
Rev. Stan Parker
FRIENDSHIP BAPTIST CHURCH
2912 Pleasant Grove Road
Lansing
Rev. Clyde Carnegie
PILGRIM REST BAPTIST CHURCH
5200 Pleasant Grove Rd.
Lansing
Rev. Walter Gibson
REACHOUT CHRISTIAN CENTER
5628 Wise Rd.
Lansing
Rev. David Foreman
.
TABERNACLE OF DAVID CHURCH
2645 W. Holmes Rd.
Lansing
Rev. Larry Trice, Jr.
NOVEMBER 4, 2018
TRINITY AME CHURCH
3500 W. Holmes Rd.
Lansing
Rev. Lila R. Martin
LANSING CHURCH OF GOD IN CHRIST
5304 Wise Rd.
Lansing
Bishop Samuel Duncan Jr.
PARADISE MISSIONARY BAPTIST CHURCH
3403 Franette Rd.
Lansing
Rev. Hilton Thomas
STEPHENS COMMUNITY CHURCH
1007 Kimberly Dr.
Lansing
Rev. Sameerah Shareef
UNION MISSIONARY BAPTIST CHURCH
500 S.Martin Luther King Blvd.
Lansing
Rev. Dr. Melvin T. Jones