They came to make sure their cars were adjusted properly to fit them and help keep them safe on the road.

They left convinced that CarFit was a worthwhile event.

"Oh, yes, it was very helpful," said Margaret Schneider, a Michigan State University retiree, and one of 79 motorists who participated in the AARP Michigan CarFit event in the parking lot at the Michigan Athletic Club in East Lansing on May 14.

Rosemary Hunger, a senior service consultant at Lake Huron Medical Center in Port Huron and Brook Jamison, an injury prevention specialist at McLaren Macomb conducted the CarFit checkup for Schneider and her 2009 Chevy Impala. They were among 40 trained technicians who came to CarFit from all across the state.

They went through a 20-minute checklist that included:

Seatbelt placement
Steering wheel location and vision clearance above the wheel
Seat position
Brake lights, headlights and turn signals
Distance from chest to air bag
Steering and horn
Rear view, side view mirrors adjusted to reduce blind spot
Emergency flashers and windshield wipers
Parking brake release
… And more.

"Correct adjustment of my mirrors is very important," Schneider said. "I use them all the time."

Indeed, said Jamison, who noted that most auto accidents happen during a lane change.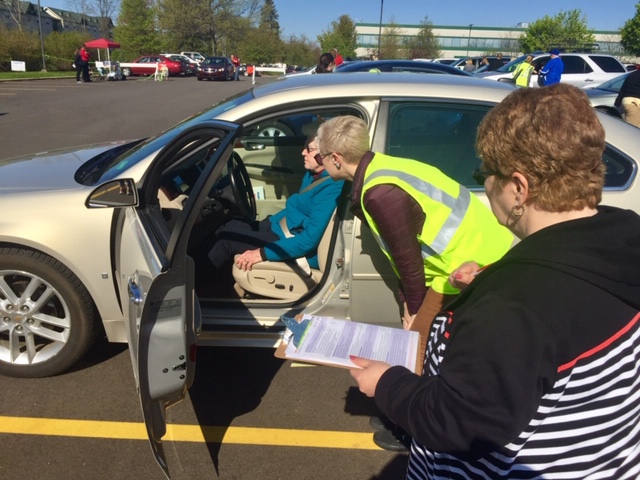 CarFit is a unique program for mature drivers that determines and adjusts how well a driver and their personal vehicle work together.

"As we age, changes in our vision, flexibility, strength, range of motion and even size and height may make us less comfortable and reduce our control behind the wheel," said Karen Kafantaris, AARP Michigan Associate State Director for Community Outreach, who organized the CarFit event.

The program is increasingly important as the number of older drivers continues to grow. By 2030, more than one in five drivers will be age 65 or older, according to the U.S. Census Bureau.

Lansing's Sparrow Hospital was a co-sponsor of the CarFit event.