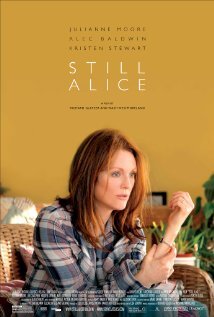 See Julianne Moore in her Academy Award-winning portrayal of a renowned linguistics professor who starts to forget words in a free screening of Still Alice at the Michigan Theatre of Jackson, presented by AARP Michigan and the Alzheimer's Association, Michigan Great Lakes Chapter.

The groundbreaking movie, offered in connection with AARP's I Heart Caregivers initiative, will be shown at 2 p.m. Sunday, June 14 at the theatre at 124 N. Mechanic St. in Jackson.

Moore portrays Alice Howland, a mother of three grown children who receives a diagnosis of early-onset Alzheimer's disease. Alice and her family find their bonds thoroughly tested.

"We are pleased to partner with AARP to present this film, which has been so important in raising awareness about Alzheimer's disease – the sixth leading cause of death in the United States and the only one among the top 10 that can't be prevented, cured or even slowed," said Jennifer Howard, Executive Director of the Alzheimer's Association, Michigan Great Lakes Chapter.

" Still Alice is so crucial in helping us shine the light on a disease that still has so much stigma surrounding it, and will hopefully make people aware that this is not just a disease of old age – anyone with a brain is at risk."

Thomas Kimble, President of AARP Michigan, said the movie also raises awareness about family caregivers – a growing, silent army of unsung heroes who number 42 million across the country and over 2 million in Michigan.

"AARP is fighting to support family caregivers, who help make it possible for older Americans and other loved ones to live independently at home – where they want to be," Kimble said. "Family caregivers are the first line of defense against older Americans being forced from their homes and into nursing homes or back into the hospital."



The film is part of AARP's Movies for Grownups series. Other free movies to be shown at the Michigan Theatre include: Nightcrawler on July 19; This May Be the Last Time on Sept. 20; and Whiplash on Oct. 18.



Still Alice is a free screening, but RSVP is required. Call 1-844-418-2281 or go to http://aarp.cvent.com/STILLALICE_Jackson



Information about I Heart Caregivers will be available at the event. Also, the Alzheimer's Association is organizing a brief live program as part of the event, which will highlight dementia and caregiver issues.