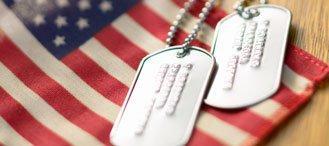 Dear Veterans: You have done so much to serve us, let us serve you!

AARP Michigan will run a regular feature on this web page about programs, services and benefits available to veterans.

And while you're here, check out the new AARP website on resources for Veterans: www.aarp.org/veterans 

This entry in the Military Monday series will address:

Deals and Discounts for Veterans

Here are just some discounts specifically for veterans. The offers may change so it is always good to check the company website for the latest information. Plus, it never hurts to ask when dealing with companies not listed here. Be sure to have documentation to show your veteran status. Most companies will accept the DD-1173 or DD-2 identification cards. Others use sheerid.com to verify your status.

AARP Membership

20% discount for military veterans who are 50+.
https://veterans.aarp.org

Banking

Chase Bank: Show your ID card when opening an account to get special offers for retired military.
www.chase.com/online/military/military.htm

Cell phones

AT&T Wireless offers special savings to military veterans including 15% off monthly service and discounted rates for devices and accessories. wireless.att.com/businesscenter/promos/wirelessdiscounts.jsp
Computers

Entertainment

Baseball Hall of Fame: Free admission year-around for retired military. http://baseballhall.org/visit#admission
Carnival Cruise Line: Retired military personnel receive a 10-50% military discount on select 2-12 day cruises.
Disney World: Walt Disney World Resort offers Disney 4-Day Military Promotional Tickets.
https://disneyworld.disney.go.com/special-offers/military-4-day-tickets/

Disney Cruise Line: Special military rates are available to retired military personnel and their families.
http://disneycruise.disney.go.com/special-offers/military-rates/

Dollywood: 30% discount for a one-day admission for retired military, spouses and dependents.
www.dollywood.com/Deals/Speacial-Offers/milDiscount.aspx%20?icid=so-tp-title-mildiscount.

Legoland: 23% discount and second day free at the California Legoland for military veterans.
https:lllegolandcalifornia.sheerid.com

.
Norwegian Cruise Line: Retired military get special offers at www.ncl.com/promo/military
SeaWorld: Via the Waves of Honor program, 30% discount off admission for retired military.
http://seaworldparks.com/en/seaworld-sanantonio/waves-of-honor/veteran

Restaurants

Bennigan's: Vets get 10% off the total check at Bennigan's.
http://bennigans.com/own-a-bennigans/veterans-incentive/



Travel