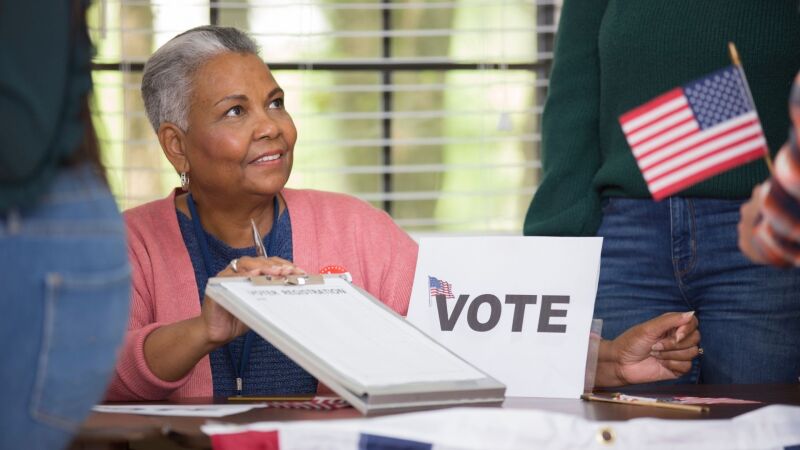 Women voters age 50 and over haven't decided which candidates to support, and the direction they choose will very likely decide the balance of power in Congress and statehouses around the country.

New research released today by AARP in partnership with pollsters Celinda Lake, Christine Matthews, Kristen Soltis Anderson, and Margie Omero found that only 17% of women in this important voting bloc have made up their mind about who they will vote for in the 2022 election. About two-thirds (65%) of these voters say they will not make their decisions until weeks or just days before election day.

"Contrary to conventional wisdom, women voters age 50 and over do not solidly belong in either party's camp -- and the vast majority haven't made up their minds about how they'll vote in November," said Nancy LeaMond, AARP Chief Advocacy and Engagement Officer. "The instability and uncertainty of the economy, the pandemic and the political environment are leading these women to demand that candidates address quality of life and pocketbook issues like the cost of living, supply chain problems, and ways to end the discord permeating politics today."

The top issues for women voters age 50 and over are kitchen table budgets and the day-to-day experience of rising prices. Nearly half (46%) rank rising cost of living as the most important issue facing the country today. And 59% say rising prices are the most important thing to them personally when thinking about the economy.

Women age 50 and over are one of the largest, most reliable group of voters. According to voter file and Census Bureau data, they make up a little more than one-quarter (27%) of registered voters and cast nearly a third (30%) of all ballots in both the 2020 and 2018 elections. In 2020, 83% of registered women voters in this age group turned out, and in 2018, the last mid-term election, they were 15% more likely to vote than the population at large.

Other key findings among women voters age 50 and over include:


72% are concerned about having enough income to keep up with rising costs, with 48% saying they are very concerned.
A majority (52%) say the economy is not working well for them, a 15-point change from 2019, when just 37% of women said the economy was not working well for them.
The majority are not optimistic about their own financial futures in the next 12 months – with 47% saying they think their personal financial situation will stay the same, while 39% think it will get worse, and only 13% think it will improve.
Women ages 50-64 are intensely worried about saving for retirement and their financial future – with 51% saying they are very concerned about Social Security being there for their retirement and 30% saying they are most concerned about having saved enough for retirement.
According to the survey, women voters age 50 and over are also concerned about political division in the country, and they are unimpressed with the job elected officials are doing on a range of issues, including their dominant concern of rising prices.

By more than a two-to-one margin, these voters want a politician who is willing to work together to get things done, even if the result is an occasional compromise that goes against voters' values (67%), over a politician who consistently fights for their values but doesn't often find a solution (30%). This finding remains consistent across party identifications, with 77% of Democratic women and 57% of Republican women preferring a politician compromise to get things done, while 21% of Democratic women and 40% of Republican women prefer a values-prioritizing politician.

Women voters 50 and over are divided evenly by party (44% R – 45% D) in sharp contrast to their male counterparts who are solidly Republican (51% R – 38% D). In a generic ballot, the Democratic candidate for Congress (48% will vote for) has a 7-point advantage over the Republican candidate (41% will vote for) among these women voters.

KEY INSIGHTS:

"Addressing the rising cost of living is an issue that any smart candidate for office will put front and center this year," said Kristen Soltis Anderson, founding partner, Echelon Insights. "Especially in midterm elections, women voters age 50 and over will be a critical group that both parties must compete for, and cost of living is clearly the top issue on which they want leaders to be focused."

"Women age 50 and over can be the defining group in the 2022 elections," noted Celinda Lake, founder and president, Lake Research Partners. "They are sure to turn out in high numbers when many other voters are disengaging. These voters have yet to make up their minds, and are dissatisfied with the jobs their elected leaders are doing, especially on the kitchen table economic issues they face every day."

"Women over 50+ may not only be the decision-makers in their households, they may also be the decision-makers of the midterm elections," said Margie Omero, Principal at GBAO.

"Women over 50 are arguably the most important voting cohort for the 2022 midterm elections - and they are not happy," said Christine Matthews, President of Bellwether Research. "They are extremely worried about the impact rising prices - particularly groceries - are having on their budget and their ability to save for retirement. A majority say the economy is not working for them - a significant uptick from two years ago. They want politicians to work together to find solutions to inflation and other key issues but they are not pleased with what they see. Elected officials should be prepared to demonstrate to this key group that they are working productively on cost-of-living issues."

SURVEY METHODOLOGY: The AARP national survey was conducted by phone and online from February 18 to March 3, 2022 using NORC's Foresight 50+ Panel, supplemented with interviews from non-probability panels. The final poll included 1,836 voters age 50 and over who are likely to vote in 2022, with samples of Black voters, Hispanic/Latino voters, Asian American/Native Hawaiian and Pacific Islander voters as well as American Indian/Alaska Native voters. The survey results represent a sample of 984 women voters age 50 and over. Study margin of error: +/- 3.29%.


For further information: Madison Daniels, mdaniels@aarp.org, 202-531-9026