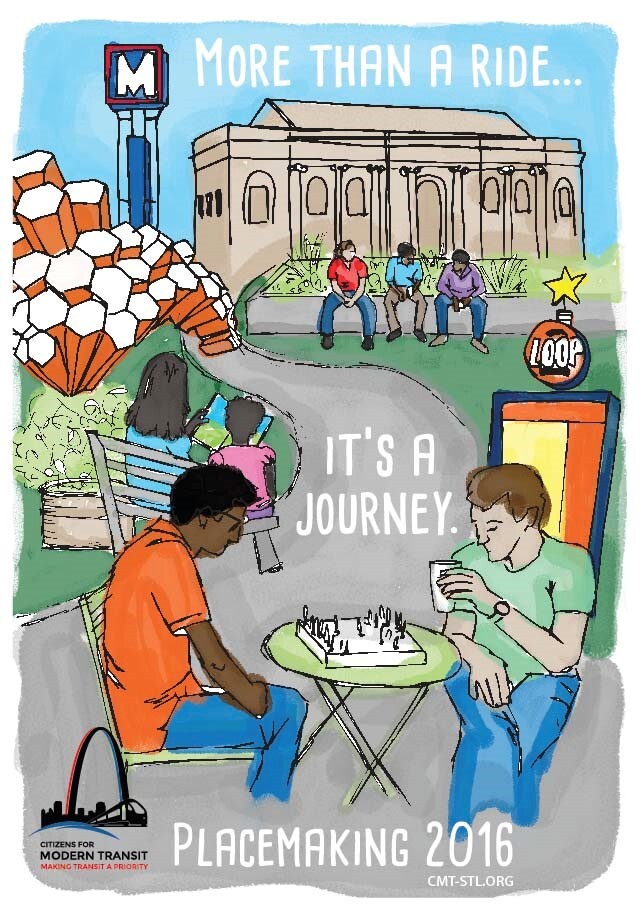 Join AARP in St. Louis and Citizens for Modern Transit as we look for ways to improve three MetroLink transit stations in the St. Louis region. Your transit station could be a place to meet up with neighbors and friends for coffee and a snack, a convenient place to grab groceries on your way home, a peaceful garden to read a book in, an active and engaging corridor that connects to your neighborhood. Help us conduct a walk audit at one or all three stations.

Help create places you want along your commute on transit! Join AARP in St. Louis & Citizens for Modern Transit (CMT) as we take a closer look at how to make transit in our community a public space that promotes health, opportunity, and well-being for transit users, and for all who live, work and play around transit stations.

Through a series of Walk Audits this fall led by Arcturis, we will spotlight the North Hanley, Forest Park and Delmar Stations – looking at ways to activate the space to create safer, more vibrant areas. These will be half day audits. Each audit will run approximately 3 hours starting in the morning at each station and then convening at a secondary location for follow up discussion.

We need your help! Here is your opportunity to get involved – join in one or all of the walk audits or email your thoughts today.

Schedule of Walk Audits – 9 a.m. to 12:00 p.m.

August 24, 2016; North Hanley Station Walk Audit, 9 a.m. North Hanley Station, 10:30 Follow-up Conversation at UMSL Police Station, One University Blvd.
September 16, 2016; Forest Park Station Audit, 9 a.m. Forest Park MetroLink Station, 10:30 Follow Up Conversation at Forest Park Visitors Center, Learning Lab
October 14, 2016 Delmar Station Walk Audit, 9 a.m. Delmar MetroLink Station, 10:30 Follow-up Conversation at the Regional Arts Commission
To register for one, two or all three audits, email info@cmt-stl.org

Can't make it to one of our walk audits? Take this short anonymous survey and provide your input on making physical changes to the select stations in our study. The results from this survey will be included with our onsite feedback from each of the walk audits. Thank you taking time to contribute to this timely and worthwhile survey. Every voice counts!