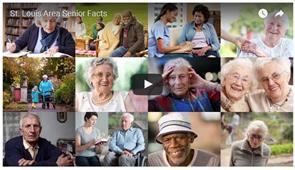 Seniors Count of Greater St. Louis is a local initiative supported by a coalition of community organizations and eldercare agencies. The mission of Seniors Count is to address the quickly growing gap between the needs of seniors and available resources in our community. Our population is rapidly aging, especially as the Baby Boomer generation reaches retirement age. Perhaps you have heard of this as the "silver tsunami"; by 2030, the number of people age 65 and older in St Louis is projected to increase by 15,000 every year. In the next three decades, the number of people in that senior set will jump by 77 percent to almost 300,000 people. Census figures from 2014 show the St Louis area had the eighth highest percentage of older people in the country, at 14.9 percent, and by 2045 it is projected that a full quarter of the region's population with be 65 or older.
One of the most important ways our community can prepare for the aging of our residents, is to create a local resource which will support "aging in place". This allows people to remain independently in their homes for as long as possible. Assisted living facilities and group homes cost about four times more than when someone is able to live independently, in their own home. The biggest needs for this growing group are affordable transportation and accessible housing.
Currently, services are grossly under or unfunded. To help accommodate the growing needs, Proposition S has been placed on the November ballot in St. Charles County, St. Louis County, and St. Louis City to establish a Senior Citizen's Service Fund.
What's at stake if we fail to act? Currently there are waiting lists for services such as Meals on Wheels and senior transportation. Waitlists for respite caregivers cannot even be established as the Alzheimer's Association depleted funds for this program within the first two weeks of the year, due to the high demand for respite care services. A Senior Citizen's Service Fund is a viable solution to some of these issues. Passing Proposition S would give counties an ongoing resource to draw funds from to distribute to senior service providers in order to expand the reach of services.
How will it work? Proposition S will raise property taxes by $9.50 for every $100,000 of a home's assessed value (i.e. a $200,000 home will see an increase of only $19 in property tax annually). The revenue raised will be deposited into a dedicated Senior Citizen's Service Fund, allocated by an independent board to agencies providing services for senior citizens in their homes. This is a proven, cost-effective way to provide for the needs of the senior population. 51 of the 114 Missouri counties have already adopted this measure, as allowed by Missouri law since 1990, and are currently serving their senior populations with these funds. None of these counties with existing Seniors Citizen's Service Funds are in the St Louis area.
For more information or to get involved with the initiative, visit SeniorsCountSTL.com or call Seniors Count at 314-513-9938