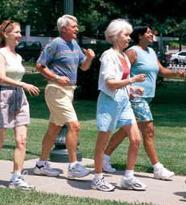 AARP Missouri invites you to improve your health in 2013!
Healthy living involves more than just walking or just eating right. Join us for informative sessions that will cover many topics on learning healthy behaviors and improving on what you are already doing!
Kickoff: March 14th
10:00 – 11:15 a.m.
St. Francis Medical Center - Fitness Plus
150 S. Mt. Auburn Road, Cape Girardeau, Missouri
To register and for more information call Southeast Missouri Area Agency on Aging , 573-335-3331 or 800-392-8771.
Staying Motivated
Read the many articles on AARP's site that will help you stay the course and keep walking.