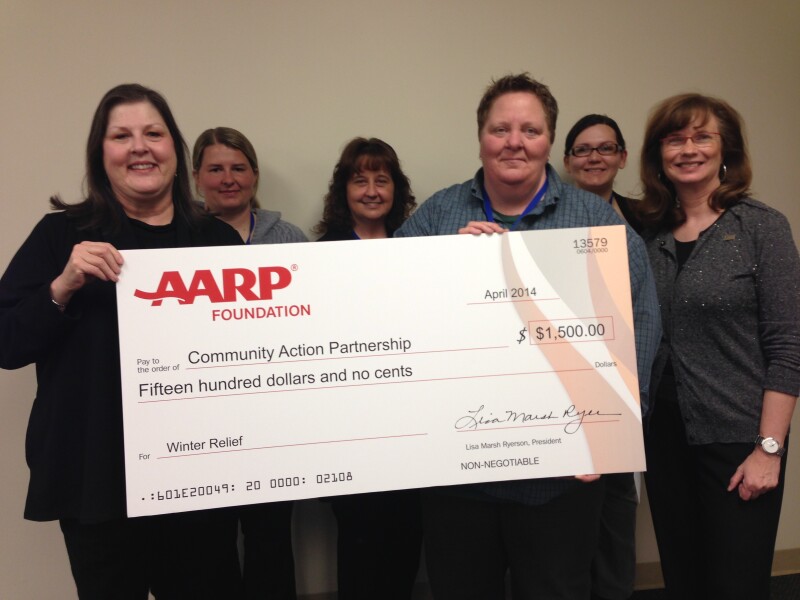 Winter may have come and gone, yet too many Nebraskan seniors with low incomes are struggling to catch up on their costly heating bills from the severe cold weather.
AARP and its members are committed to helping those in need. Nationally, AARP and AARP Foundation matched dollar-for-dollar contributions up to $250,000 to create a relief fund for this year's extreme weather.
AARP Foundation selected Community Action Partnership of Lancaster and Saunders Counties to receive a $1500 check to provide energy assistance to people in need.
"With this donation, we hope to make it a little easier for older adults who struggle with limited income and are faced with increased costs to heat and cool their homes," said Connie Benjamin, state director for AARP Nebraska, who presented the check on behalf of AARP Foundation.
In 2013, Community Action Partnership served over 12,770 individuals through its poverty-fighting programs and services. There were 295 utility assistance requests in March alone, and the agency generally receives three times as many requests as it is able to fund.
Michelle Martinez, director of family outreach for Community Action Partnership, said many of those requesting assistance this year are doing so for the first time.
"These are individuals who have worked their entire lives," she said. "It only takes one unexpected medical issue or job loss – many times through companies downsizing – to deplete any savings and put these individuals and families into crisis."