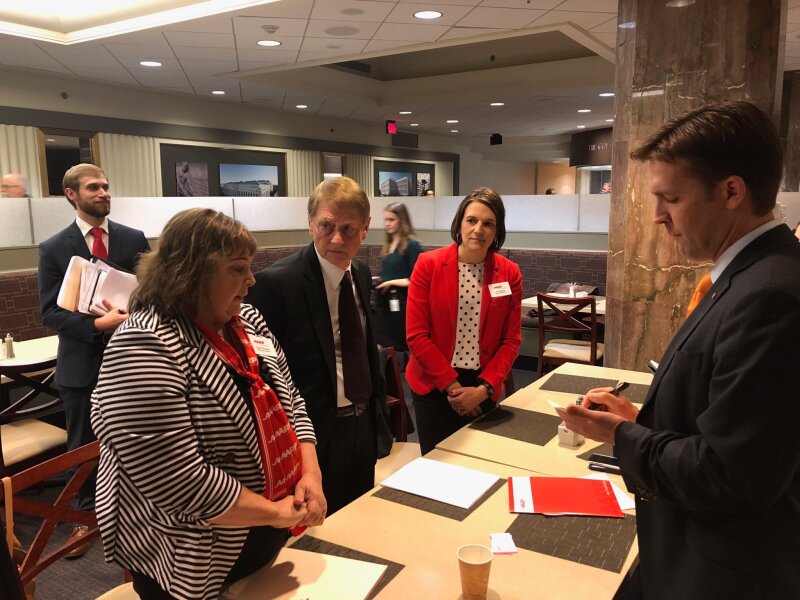 On April 25, AARP Nebraska leaders and volunteers visited Capitol Hill to urge their elected representatives to make permanent the 7.5 percent medical expense tax deduction threshold, protect and strengthen the Supplemental Nutrition Assistance Program (SNAP), and support family caregivers by joining the Assisting Caregivers Today (ACT) Caucus.

AARP visited the offices of Senators Deb Fischer and Ben Sasse and Members of the U.S. House of Representatives Adrian Smith, Don Bacon and Jeff Fortenberry to discuss these and other issues important to older Americans.

"These matters impact the health and financial security of many older Nebraskans and their caregivers," said Dave Holmquist, state president of AARP Nebraska. "We're urging Congress to take action this year on a number of remaining issues important to our AARP Nebraska members and their families."

Here are some details about these issues that AARP Nebraska staff and volunteers discussed with members of the House and Senate:

Medical Expense Deduction: The IRS currently allows taxpayers to deduct medical expenses that exceed 7.5 percent of a person's annual income. However, beginning January 1, 2019, taxpayers will only be able to deduct medical expenses that exceed 10 percent of their income. Nearly 75 percent of people using the medical expense deduction are age 50 or older living with a chronic illness and who have high health care costs. AARP is urging Congress to make the 7.5 percent threshold permanent to help protect the approximately 8.8 million Americans with high medical costs who need this deduction each year.
Supplemental Nutrition Assistance Program (SNAP): The Farm bill, which includes SNAP, is expected to be reauthorized before it expires on September 30. SNAP is the nation's largest domestic nutrition assistance program, providing a vital lifeline to almost 45 million low-income Americans, including nearly 5 million Americans age 60-plus. SNAP not only reduces hunger, it leads to improved health and reduced health care costs. AARP opposes funding cuts and recommends expanding access to SNAP benefits. AARP is also urging Congress to reject expanding SNAP's work requirements, especially for workers age 50-plus who often take longer than younger workers to find new permanent employment.
Assisting Caregivers Today (ACT) Caucus: Approximately 40 million family caregivers provide an estimated $470 billion worth of unpaid care to a family member or other loved one. In Nebraska nearly 200,000 family caregivers provide unpaid care valued at $2.5 billion annually. The ACT Caucus is a forum for our Congressional leaders to exchange ideas that can lead to solutions that will help family caregivers.. AARP Nebraska encourages Nebraska's senators and representatives to become members of the bipartisan ACT Caucus.
AARP's Nebraska volunteers hope that these issues important to older Americans will resonate clearly with our elected officials in the Senate and the House as the midterm elections approach.