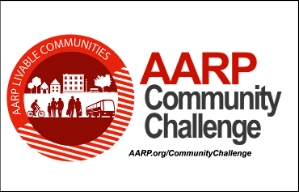 Communities across Vermont are working each and every day to become more livable for residents of all ages.

In support of that work, AARP is excited to announce the largest number of grantees and funds to-date through the Community Challenge grant program. These "quick action" grants are being distributed to 184 organizations across all 50 states, Washington D.C, Puerto Rico and the U.S. Virgin Islands and totaling $2.4 million.

The Community Challenge funds innovative projects that inspire change in areas such as transportation, public spaces, housing, smart cities, civic engagement, coronavirus response and more.

AARP Vermont is incredibly proud to have 5 grantees right here in our state with a total of over $44,000 in funding. Some 32 applications came in from across the state.

"We are incredibly excited to support these organizations as they work to make immediate improvements in Vermont communities that can and jumpstart long-term change," shared Greg Marchildon, AARP Vermont state director. "Our goal in Vermont is to support the efforts of our communities to be great places for people of all backgrounds, ages and abilities and the coronavirus pandemic has only underscored the importance of this work."

Here in Vermont, these exciting and diverse projects were funded:

Yestermorrow Design/Build School -Wash. Co. - $9,430
"The Snail," an iconic but discontinued bus stop structure, will be restored and moved to a more strategic transit location that will create a safe and unique structure for people of all ages to utilize.

UVM Center for Research on Vermont - $10,000
To elevate the issues of livable communities and their role in the coronavirus crisis recovery, a Community News Service will be created. The service will include a professional editor who will work to place stories with understaffed community newspapers and university students who will serve as reporters writing about creating vibrant and livable communities.

Central VT Council on the Aging - $5,000
This grant will expand a successful public art initiative to more area towns and activate senior/elder artists as a pilot for the expansion that will contribute to the successful aging of participants.

Sunrise Rotary Club of Randolph - $7,500
The grant will provide for the installation of outdoor musical instruments, benches and signage at the town's playground and recreation field, further activating the public space and encouraging people of all ages to express themselves and connect.

Downtown Brattleboro Alliance - $12,500
This grant will increase the safety and accessibility of a public parking garage that serves several vital needs to the community and includes the installation of signage, a kinetic sculpture and pop-up art events.


The Community Challenge is part of AARP's nationwide work on livable communities, which supports the efforts of neighborhoods, towns, cities and counties across the country to become great places for all residents. We believe that communities should provide safe, walkable streets; affordable and accessible housing and transportation options; access to needed services; and opportunities for residents to participate in community life.

To learn more about the work being funded by the AARP Community Challenge both here in Vermont as well as across the nation, visit aarp.org/CommunityChallenge. You can also view an interactive map of all of the Community Challenge projects and AARP Vermont's livable communities work at aarp.org/livable.