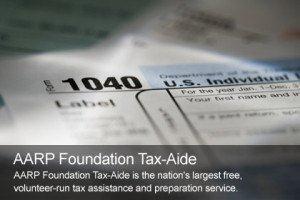 Tax season is underway. This year, AARP Foundation is again providing free tax assistance and preparation for taxpayers across Vermont with low to moderate income through the AARP Foundation Tax-Aide program. AARP Tax-Aide, in its 49th year, is the nation's largest free tax assistance and preparation service, giving special attention to the older population. You do not need to be a member of AARP or a retiree to use this service.

Trained counselors are ready to help Vermonters file electronically and get the refunds they deserve where appropriate. To find a site near you and times simply go to aarp.org/findtaxhelp or call 888-227-7669. When you go, be sure to bring photo ID, a Social Security card or statement, health insurance information and last year's tax return.

"This program helps thousands of Vermonters every year recover millions of dollars in refunds," said Greg Marchildon, AARP Vermont state director. "Our counselors work throughout Vermont and the sites and clients have come to really rely on this help over the years."

AARP Foundation Tax-Aide volunteers are trained and IRS-certified each year to ensure their knowledge of revisions to the U.S. tax code. Some 160 Tax Aide Volunteers participated last year, helping more than 9,200 people file their federal and state tax returns. The program is offered at approximately 66 sites in Vermont including senior centers, libraries and other convenient locations.

For more information or to locate an AARP Foundation Tax-Aide site, visit www.aarp.org/ findtaxhelp or call 1-888-AARPNOW (1-888-227-7669). AARP Foundation Tax-Aide is offered in conjunction with the IRS.