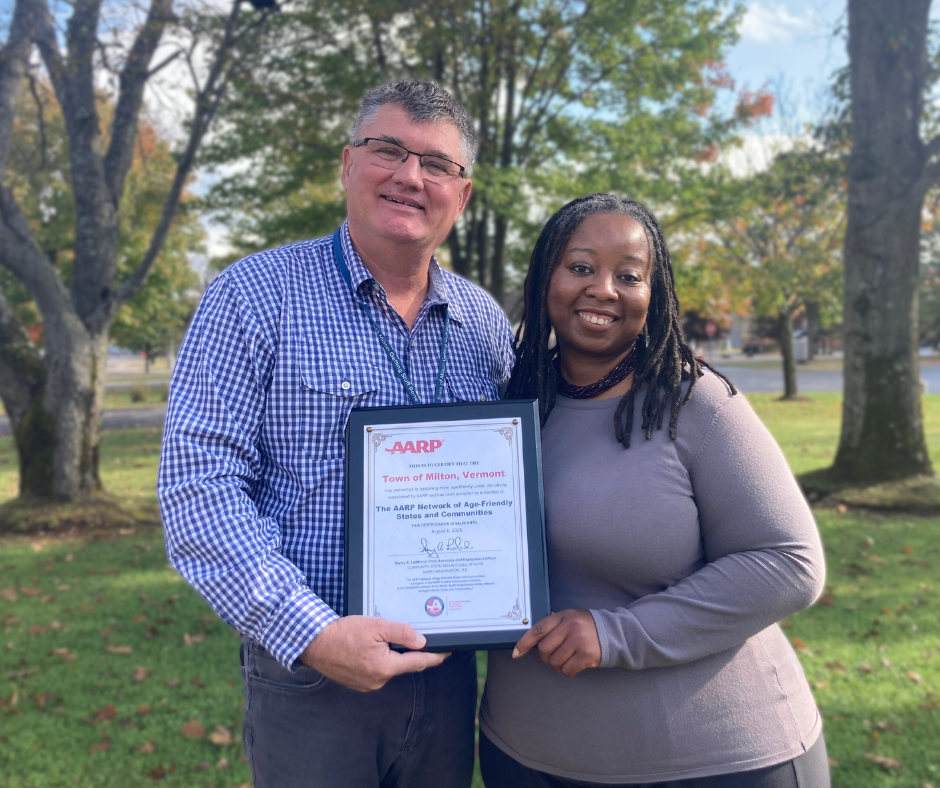 AARP Vermont is pleased to welcome the Town of Milton as the latest member of the AARP Network of Age-Friendly States and Communities. As the latest community to sign on to the network, Milton's civic leaders will have access to global resources and information on age-friendly best practices, models of assessment and implementation, and the experiences of towns and cities around the world.

The Town has made strides in meeting the needs of its older residents by increasing the capacity of their Rescue Services Department, investing in phase II of an ADA Access Trail in the Milton Town Forest, and completing sidewalk infrastructure along the amenity-rich Route 7 corridor, among other initiatives. Cymone Bedford, Milton's Planning and Diversity, Equity, and Inclusion Director, was instrumental in getting the Town enrolled in the Age-Friendly program. Bedford incorporated aging projection statistics into the planning and recommended courses of action for DEI involvement into the Town's Comprehensive Plan.

"Making sure that everyone feels like they belong in Milton is an active focus for the Town, and a large component of this is recognizing that Milton is an aging community with unique needs," said Town Manager, Don Turner. "Milton is committed to making our town a place where we can all age with a high quality of life, and we are proud to lead the way in Vermont. We look forward to other Vermont communities joining in the future."

The network helps participating communities become great places for people of all ages by adopting features such as safe, walkable streets; better housing and transportation options; access to key services; and opportunities for residents to participate in civic and community activities.

"Well-designed, livable communities promote wellbeing, sustain economic growth, and make for happier, healthier residents — of all ages," said AARP Vermont State Director Greg Marchildon. "By becoming part of the network, Milton is making a commitment to do even more to improve livability in the community and involve older residents in the process," he said.

The AARP Network of Age-Friendly Communities targets improvements in eight domains that influence the health and quality of life for all as we age. Communities participating in the AARP Network of Age-Friendly Communities commit to improving their livability through an assessment of needs, development of an action plan, implementation of new projects and programs, and ongoing assessment – all with the involvement of older residents. The eight areas of focus for the age-friendly process are:


Outdoor spaces and buildings
Transportation
Housing
Social participation
Respect and social inclusion
Civic participation and employment
Communication and information
Community support and health services
The livability indicators are planned, implemented and progress assessed in three phases over a five-year period, with continued cycles of assessment and improvement thereafter.
Affiliated with the World Health Organization's (WHO) Global Network of Age-Friendly Cities and Communities®, the AARP network helps cities and towns to prepare for two significant ongoing trends: rapid population aging and increasing urbanization. As of the 2020 Census, Vermont had 132,305 people age 65 and older. By 2030, data indicates that close to 27% percent of Vermont residents will be over the age of 65.

Nationwide, 791 communities representing nearly 100 million residents have received the Age-Friendly designation from AARP. Learn more at AARP.org/agefriendly and AARP.org/livable.