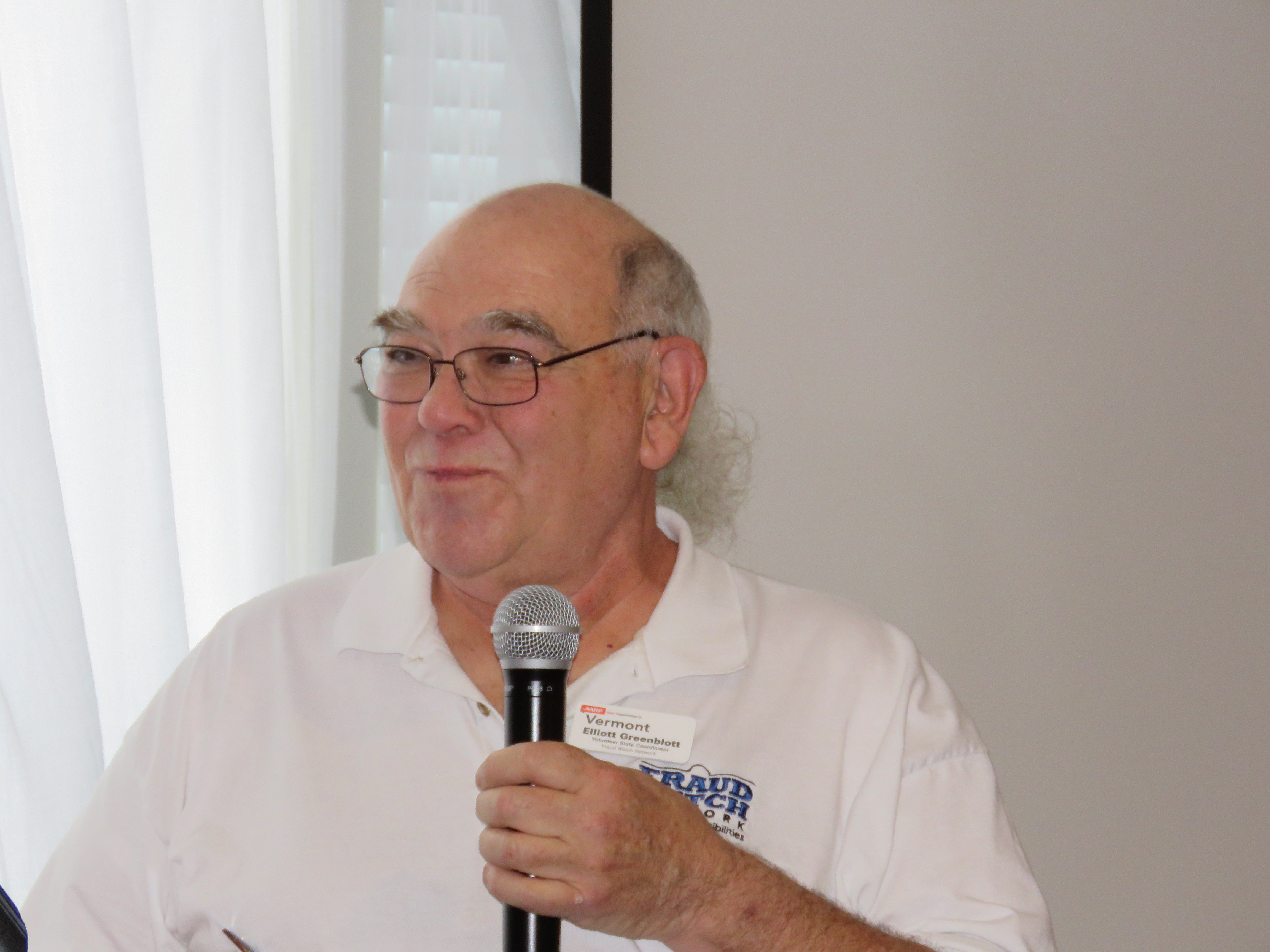 At Greater Northshire Access Television's (GNAT) annual Volunteer Appreciation event, the 2018 "GNATTY" Award for exceptional service was awarded to Elliott Greenblott. Elliott, the Vermont Fraud Watch Network state coordinator for AARP Vermont is a natural host for his regular series Mr. Scammer. GNAT-TV and Elliott have produced 15 shows and 17 special scam alerts, which provide specific information about the latest financial and identity scams. Viewers hear from experts on a variety of topics such as, identity theft, investment fraud and internet fraud.

GNATTY Award winner, Elliott Greenblott says, "As a college student in the 1960's, I was introduced to the writings of Canadian philosopher Marshall McLuhan. I read his work and attended a couple of his lectures around the time he wrote The Medium is the Message. The power of media cannot be overstated and the reality is that GNAT-TV has given me a powerful tool in my campaign to bring the message to a wider audience."

GNAT-TV's Executive Director, Tammie Reilly states, "We are thankful to Kevin Moran from New England Newspapers for connecting Elliott and GNAT-TV. The partnership with Elliot and the AARP Fraud Watch Network meets GNAT-TV's mission to provide essential information to the public. Elliott provides practical and effective solutions with a little bit of wit. His dedication to co-producing the show and to serving the public is invaluable."

Mr. Scammer airs on Thursdays at 8 p.m. and Saturdays at 8 a.m. on Channel 15 in Manchester and surrounding towns and Channel 8 in Stratton, Weston, and Londonderry. Mr. Scammer and all other local programs can also be viewed online at www.gnat-tv.org. The program also airs on other cable access stations across Vermont.

GNAT is one of twenty-five community media centers broadcasting public, education, and government content created by the community. GNAT serves the Southern Vermont towns of Arlington, Dorset, Manchester, Peru, Sunderland & Winhall (Channels 15, 16, 17); Londonderry & Weston (Channel 8, Channel 10); Stratton (Channels 8, 10, 18). Programs may also be viewed online at www.gnat.tv. For more information or to get involved at GNAT-TV, call 802.362.7070 or go to www.gnat-tv.org.