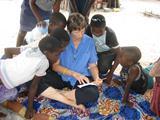 Please join us:
"Celebrating the Achievements of Older Volunteers"
A panel discussion with those who have served in Peace Corps over the age of 50
Monday, October 20, 2014, 4:00pm - 6:00pm
Vermont AARP Office
199 Main Street, 2nd Floor
Burlington, VT 05401
Peace Corps Seeks Active, Interested Seniors for Service Abroad. Use your wealth of knowledge and lifetime of experience to make a difference for a community overseas! Peace Corps has volunteer opportunities from a variety of backgrounds including agriculture, business, education and health.

Join us at the AARP Vermont office in Burlington to learn how, more than five decades after President John F. Kennedy established the volunteer agency, Americans over the age of 50 are making lasting contributions to the Peace Corps legacy in host nations around the globe. The panel will consist of locals who have served. There will be time for a Q & A and mingling; refreshments will be offered.

Have questions? Contact your local Peace Corps Recruiter in Burlington:

RSVP To: Zoe Armstrong: zarmstrong@peacecorps.gov or call (802) 829-7111.



It only takes one hour to begin your life-defining experience. Apply now using our faster, easier application process: www.peacecorps.gov/apply

AARP office phone: 802-951-1303.