Public Talk and Call To Action with Jeff Chester, Center for Digital Democracy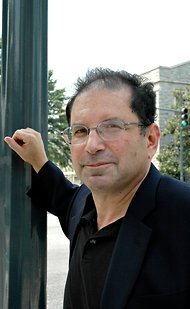 Jeff Chester, Director of the Center for Digital Democracy and national advocate for media justice, joins us on Thursday, November 9th at 5:30 p.m. at City Hall in Burlington, VT for a provocative and timely talk about how Big Data threatens to change Politics and Democracy forever and what we can do to stop it. The event begins at 5.30 with a reception, followed by the Public Talk at 6 p.m.
Today's political candidates and issue campaigns are now fully integrated into the growing Big Data marketing infrastructure. Data management platforms, marketing clouds, and other new data services enable information about one's finances, health, race, ethnicity, shopping behavior, and geo-location to be combined with political interests, reading habits, and voting records. Facebook, Google and other digital platforms are facilitating many of these techniques, monetizing and normalizing "fake news," "dark posts," voter suppression and other practices, and challenging fundamental principles such as privacy, data protection, and individual autonomy. Using the systems set up by digital advertisers such as Facebook, Russia and others can now easily manipulate the electoral process.
In light of these new digital Big Data political operations, Jeff Chester will focus on how to protect the integrity of the democratic electoral and decision-making process and address how:

Political messages can be crafted to appeal to a person's fears, concerns, and deep subconscious processes; they can be tested, refined, and altered in real time to maximize impact, and can be targeted to individuals through social media and other platforms with little or no transparency or public accountability.
In the emerging Internet-of-Things era, a spectrum of sophisticated technologies — including biosensors, artificial intelligence, and augmented reality — will become central tools in political campaigns.
Political Big Data digital targeting played a role in the election of President Trump as well as the Brexit vote. Looking ahead, Jeff will offer advocacy and public policy for action.
Produced in partnership with Channel 17/ Town Meeting Television, ACLU Vermont, VPIRG, AARP VT, Burlington NetSquared, Common Good Vermont, VCAM and RETN.
REGISTRATION REQUIRED. $10+ Suggested Donation gratefully accepted to support CCTV Free Speech Fund.