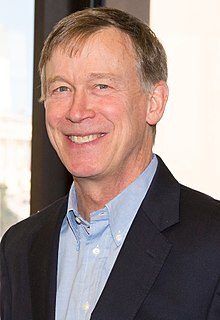 Conversation with Colorado Governor John Hickenlooper
Moderated by Jen Kimmich, Co-Founder of Alchemist Brewery
Flynn Center Mainstage: March 23rd, 7:00 PM - 8:00 PM
This discussion will feature Hickenlooper's economic development initiatives, including affordable housing and public transportation, in urban and rural areas. He will also talk about the challenges and opportunities of the legalization and regulation of cannabis in Colorado, which was the first state to develop a regulatory market for recreational marijuana.
Vermont's economy, like Colorado's, relies on tourism, ski areas, craft breweries, tech and a budding cannabis industry. Hickenlooper will talk about economic development initiatives that bridge the divide between rural and urban populations in Colorado, and his management of the transition to marijuana legalization, which included roadside testing and agricultural entrepreneurship.
As mayor of Denver and as a two-term governor, Gov. John Hickenlooper oversaw and managed a major period of sustained growth in Colorado.
"In Colorado, we took our state from 40th to 1st in the country in job growth. We cut regulations on small business, attracted new businesses to Colorado by creating an attractive quality of life, and improved the state's education and skills training to create a stronger workforce. As a result, Colorado saw major gains for working people, not only in big metro areas like Denver, but also in the state's rural areas," Hickenlooper said.
"I'm thrilled to have the opportunity to interview Governor Hickenlooper and get his perspective on the challenges we share as rural mountain states, the opportunities we want to create for our young people, and the work we need to do as Americans to build strong communities." said Jen Kimmich, Co-Founder of the Alchemist Brewery.
The event is part of a VTDigger series of discussion events called 2020 Vision.
RSVP (free admission) -- https://www.eventbrite.com/e/colorado-governor-john-hickenlooper-talks-cannabis-and-the-economy-tickets-57416152257?fbclid=IwAR0q1vtPeVLY5ytYNBxvVfRjEUAT6PIymQbaSH7MJzGDjLTMzKqQLMMfnlo#tickets