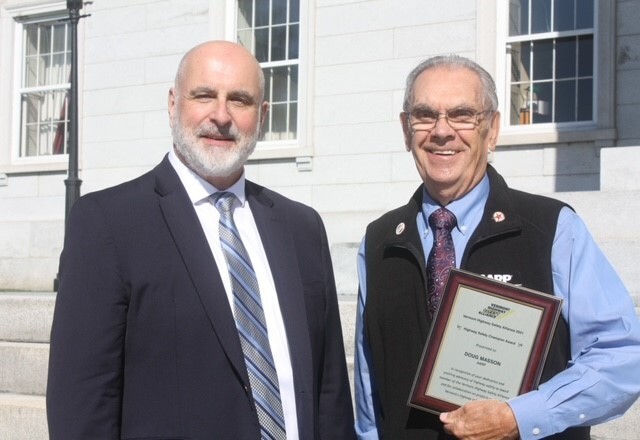 Doug Masson, State Coordinator of the AARP Driver Safety Program, was recognized VTrans Secretary Joe Flynn. The award was for Doug's dedication and untiring advocacy of highway safety as a board member of the Vermont Highway Safety Alliance and for collaboration on projects promoting Vermont's highway safety priorities.

Comments by Secretary Flynn:

Doug Masson, a retired police officer, has taught the Smart Driver Program for AARP in Vermont since 2011. He has also been an active volunteer with the VHSA from 2012 to 2020 serving as a board member. Doug has been an invaluable contributor to the organization for many years. He served as a critical point of contact and connection to the community of older drivers and his expertise on safety guided the VHSA in its efforts to address the Age-Appropriate Solutions critical emphasis area. His work on the Board of Directors included participating in events such as the Champlain Valley Fair, Distracted Driving events, and other safety days. Vermont has been fortunate to have him as a champion of driver safety - both with his volunteer work with AARP and his dedication to the VHSA.