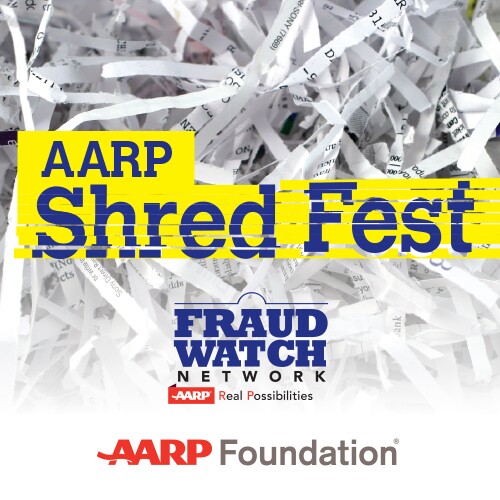 As part of its ongoing efforts to help consumers avoid falling victim to identity theft, AARP Vermont is holding "
Shred Fest 2016
" – an event to provide
free
shredding of personal financial documents and other sensitive records.
The Shred Fest will be held on Saturday, April 30th at the former Kmart parking lot on Shelburne Rd. in South Burlington. It is open to
everyone
…AARP member or not. Shredding services begins at 9:00 a.m. and will continue until noon, or until the on-site shredding service trucks reach full capacity. There is a limit of 3 boxes or bags of documents.
This event is one of dozens of
Shred Fest 2016
events scheduled for communities nationwide, during Money Smart Week
®
April 23-30, with support from the AARP Fraud Watch Network and the AARP Foundation.
To avoid having your sensitive information compromised, security experts recommend shredding of the following types of materials:
Old documents: Papers that carry your Social Security number, birth date, signature, account numbers, passwords or PIN numbers.
Banking: Canceled or unused checks. Shred deposit slips and ATM and credit card receipts, once you receive your monthly statements.
Credit Cards: Pre-approved credit card applications and incentive/gift checks from credit card companies.
Medical: unneeded medical bills.
Investments: Investment account statements.
Obsolete ID cards: Expired driver's licenses, medical insurance cards and passports.
And for those consumers who use a home shredder, experts also recommend the use of a micro-cut model. Tests have shown that the scraps of paper from a straight or cross-cut shredder can be reassembled by identity thieves. With a micro-cut shredder, the paper is rendered into impossible-to-reassemble debris.

For more information or questions email vtaarp@aarp.org.