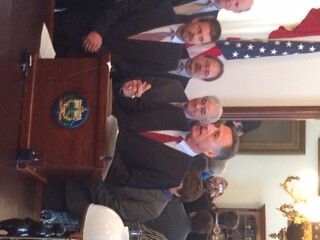 Governor Peter Shumlin today signed a bill into law that effectively prevents predatory online lending institutions from preying upon older Vermonters. The legislation, drafted by AARP Vermont and others, impacts companies offering cash advances to pensioners in exchange for part or all of their pension payments – often at very high interest rates. The new law requires these companies to register with the state and comply with strict regulations on interest rates, disclosures, etc. -- or face stiff penalties. Regulators are confident that these companies will not comply and therefore will effectively be unable to operate in Vermont.



"We are very pleased to see Vermont take the lead as the first state in the country to essentially ban this unscrupulous practice," said Greg Marchildon, AARP Vermont state director.



AARP worked closely with Vermont State Treasurer Beth Pearce and state regulators in drafting and lobbying for the bill. Both the Vermont House and Senate passed the bill unanimously. "This is a great example of lawmakers, state government and advocates coming together to shut the door on a questionable practice before it becomes a real problem for our older residents," he said. "AARP advocates in other states are now looking at this legislation as a model to follow to protect their citizens," said Marchildon.