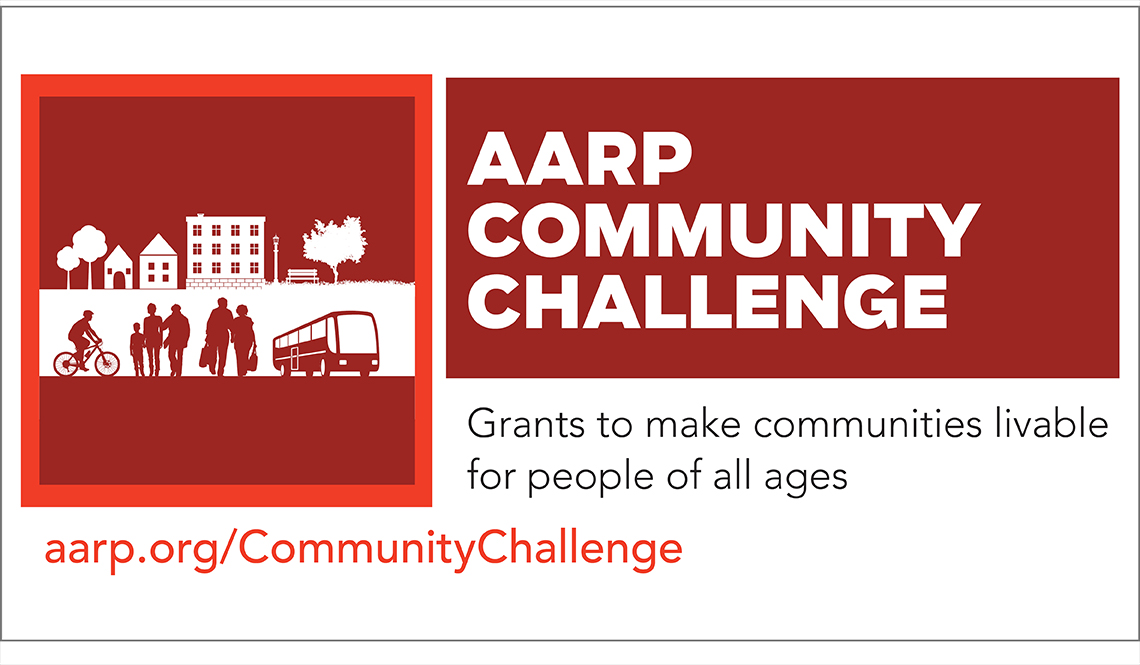 Communities across Vermont are working to become more livable for residents of all ages.

AARP is working in partnership with local leaders, organizations and dedicated residents to help make that vision a reality. As part of that effort, AARP is excited to announce the largest investment of grant dollars to date through the Community Challenge grant program. More than $3.6 million in quick-action grants are being distributed to 310 organizations across all 50 states, Washington D.C, Puerto Rico and the U.S. Virgin Islands.

The AARP Community Challenge funds innovative projects that inspire change in areas such as public places; housing; transportation; diversity, equity, and inclusion; digital connections; community resilience; and more.

This year, AARP is also bolstering its investment in rural communities, mobility innovation, transportation options, and health and food access. The program accepted applications across three different grant opportunities, including existing flagship grants in addition to new capacity-building microgrants for improving walkability and community gardens. New demonstration grants will focus on improving transportation systems, with funding support provided by Toyota Motor North America, and housing choice design competitions.

AARP Vermont is incredibly proud to have six grantees right here in our state. Our goal is to support their efforts to create great places for people of all backgrounds, ages and abilities. As local leaders seek to better their communities for the future, this becomes even more critical.

Here in Vermont, these exciting and diverse projects were funded:

TOWN OF WHEELOCK: This project will conduct three walk audits along a busy route in Wheelock Village to identify walking hazards and potential crosswalk locations and then share results at a community meeting that will be open to residents, business owners and local officials.
YESTERMORROW DESIGN/BUILD SCHOOL: The project will host an accessory dwelling unit (ADU) design competition, in an effort to help alleviate Vermont's housing shortage.
HEINEBERG COMMUNITY SENIOR CENTER: This project will create an accessible outdoor seating area for older residents by repurposing several paved parking spaces near the local senior center and equipping them with bench seating, tables, chairs and planters for gardening.
OLD EAST END NEIGHBORHOOD COALITION: This project will promote walkability by conducting a walk audit in a Burlington neighborhood and staging a community design charrette with 50 participants to come up with improvements for problem areas.
TOWN OF LYNDON: This project will create safer roadway crossings for downtown residents by installing temporary curb extensions and bulb outs meant to help calm vehicular traffic.
VERMONT RIVER CONSERVANCY: This project will organize walk-and-talks and indoor workshops led by community members aged 50+ to inform residents about the construction of a riverside park and get them engaged in shaping its future development.
The Community Challenge is part of AARP's nationwide work on livable communities, which supports the efforts of neighborhoods, towns, cities and counties across the country to become great places for all residents. We believe that communities should provide safe, walkable streets; affordable and accessible housing and transportation options; access to needed services; and opportunities for residents to participate in community life.

To learn more about the work being funded by the AARP Community Challenge both here in Vermont as well as across the nation, visit aarp.org/CommunityChallenge. You can also view an interactive map of all of the Community Challenge projects and AARP Vermont's livable communities work at aarp.org/livable.