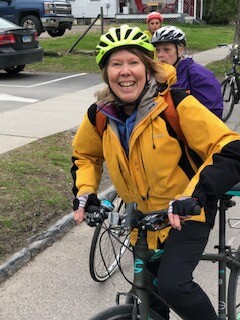 Are you a regular biker, an occasional rider or thinking about breaking out the old two-wheeler? In a recent survey released by AARP, older cyclists reflect on their bicycling preferences and experiences and reveal trends among the 50+ population. Many consider cycling to be a staple of their lives and can't envision ever not being able to ride a bike

The 50+ Cycling Survey is a nationwide survey of older bicyclists. Created by Carol Kachadoorian, a transportation planner, older adult mobility specialist and founder of the dblTilde Collaborative, the survey is in its third year. The survey, supported in part by AARP, was completed by some 3,000 respondents age 50 to 85-plus, near evenly split between women and men. Respondents answered questions about their cycling history and habits, any changes in their bicycling routine during the past year — including since the COVID-19 pandemic — and their preferences for cycling locations and conditions. Among the key findings:



Older adults bicycle more often when they have someone to bicycle with.

COVID-19 has motivated many older adults to start bicycling again or to ride more.

Older bicyclists want access to a high-quality bike network where "everyday cycling" is supported and there are fewer potential points of conflict with motorists. (Such infrastructure enhancements would include protected bike lanes as well as trails with overpasses and underpasses for safe passage across roadways.)

Older adults prefer to bicycle in communities that feature easily accessible places to shop, work and socialize.

Electric assist bicycles — commonly known as e-bikes — are growing in popularity, with use increasing with a rider's age, especially as a way to continue to cycling when stamina declines. (See also "Sales of e-Bikes Heat Up During the Pandemic.")

Many older adults consider bicycling to be a staple of their lives and cannot envision a time when they would stop riding a bicycle.
About 400 people who responded to the 50+ Cycling Survey completed journal entries for two of their rides. The journals captured real-time experiences such as the weather, how the cyclist felt, the trip's purpose, and information about the trip's length. Most trips were for recreation — either alone or with others in informal or formal groups — with about the same number of rides for 6 to 10 miles, 11 to 15 miles, 16 to 20 miles, and 26 to 36 miles. The journals also captured information on the safety and comfort of various cycling facilities used. Not surprisingly, cyclists felt the safest and most comfortable in locations with where bicycling paths are separate from motor vehicle traffic.

For more on the survey and on how local leaders can support biking in your community, go to: https://www.aarp.org/livable-communities/getting-around/info-2020/50-plus-cycling-survey.html