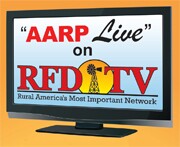 Telling Our Story to Rural America
AARP is reaching out with our message and telling our story to rural America on AARP Live. Airing nationally on RFD-TV, the program focuses on topics of importance and interest to 50+ America, with a focus on the needs and wants of the millions of rural residents and landowners, farmers, and ranchers in the U.S.
This live, one-hour call-in show airs on the third Thursday of each month on the RFD-TV cable network. AARP Live features AARP state directors and volunteers from rural areas who discuss issues that include including jobs, healthcare, consumer protection, and retirement planning.

RFD-TV, "Rural America's most important network," is distributed by more than 625 satellite and cable networks, reaching over 40 million U.S. television households. It is the #1 network for 50+ viewers (11,173,000 viewers over the age of 50).
This Month on AARP Live

Thursday, Jan. 17, 2013
10 p.m. Eastern/9 p.m. Central/8 p.m. Mountain/7 p.m. Pacific
RFD-TV (Check your satellite/cable provider for channel numbers)
In Vermont find it on DirecTV at chanel 345 and on Dish TV at ch. 231

Topic:
AARP is reaching out with our messages and telling our story to rural America. This month, viewers will learn how AARP's Tax Aide program and Caregiving Resources offer help they might need. We also feature AARP's work to keep utility rates low and save families money.
Hosts:

Sarah Jennings, State Director, AARP South DakotaGreg Marchildon, State Director, AARP West Vermont

Sean Voskuhl, State Director, AARP Oklahoma

Pat Bryant, AARP Tax Aide Volunteer