Torrential downpours caused widespread flash flooding across the state this July. Vermont Gov. Phil Scott described the event as "historic and catastrophic" while President Joe Biden declared a state of emergency.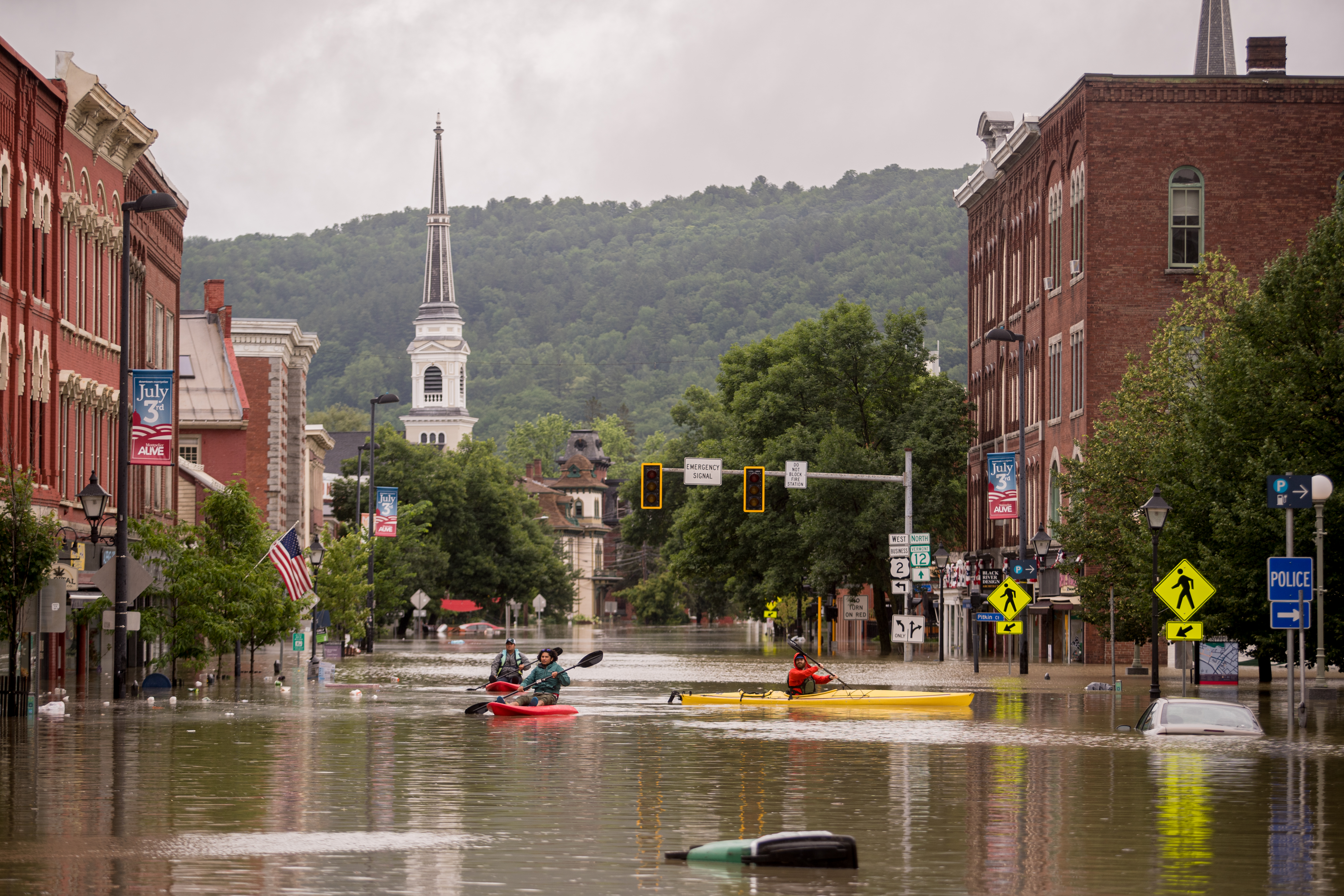 AARP Vermont has compiled a list of government, nonprofit and other resources that currently offer information or support to those impacted by flooding. This list will be updated as more information becomes available.

If you're in a life-threatening situation, call 911 immediately.


General assistance
Vermont 211: For non-life-threatening emergencies, the state is asking Vermonters to call 211, a free referral program that can connect you with the right agency or organization for assistance. For help, call 211 between 8 a.m. and 11 p.m. daily, or text your zip code to 898211 between 8 a.m. and 10 p.m. daily, or email info@vermont211.org.


Alerts
VT-Alert: A state-operated service providing real-time information on what's happening in your area, including instructions and recommendations from emergency personnel. All areas of Vermont are included in the system. Users can decide which area they want to receive alerts about, and on which device to receive them. Register at vem.vermont.gov/vtalert.

NOAA Weather Radio: Radio stations from the National Oceanic and Atmospheric Administration (NOAA) provide information on current and incoming weather in your local area.

U.S. National Weather Service: Weather forecasts for Bennington and Windham counties and the rest of Vermont.

National Weather Service River Levels: River observations and forecasts for the Vermont region.

Local news outlets: Closely monitor your local TV and radio stations for up-to-date information and instructions from emergency personnel.

Vermont Emergency Management: Flood updates and disaster resources are being posted to the Vermont Emergency Management homepage. Updates can also be found via the agency's Facebook and Twitter pages.


Safety tips
Ready.gov: Floods: Tips on what to do before, during and after a flood by the U.S. Department of Homeland Security.

Vermont Emergency Management: Floods: Information on key flood terms, what to do during a flood and how to prepare for a flood by the Vermont Department of Public Safety.

Going Home After a Flood: Resources from the Centers for Disease Control and Prevention around staying safe and healthy and returning home after a flood.

Flooded Homes Cleanup Guide: Tips from the U.S. Environmental Protection Agency on DIY cleanup and protecting your health.


Power
Utility companies: Report any outages to your utility company. See which utility company services your area via VT Public Service Department's Utility Franchise Areas map.

VT Outages: Vermont's official outage resource reporting power outages by county, town and utility.

Power Outage Tips: Helpful advice from Vermont Emergency Management on what to do during a power outage.


Water
Boil Water and Do Not Drink List: An online list by the Vermont Agency of Natural Resources notifying of water supplies affected by the storm.

ANR Flood Recovery Resources: A webpage by the state's Agency on Natural Resources with information on public and private water sources, water safety, Vermont dams, septic systems, hazmat spills and more.


Transportation
New England 511: An online transportation tool with information on road closures to help you plan your driving route. Alternatively, you can call 511 for information in your region or follow updates on Twitter at @511VT.


Shelter
The American Red Cross: The nonprofit organization offers free shelters in communities impacted by weather disasters. Visit the Red Cross website to find open shelters near you or call 800-464-6692.

Vermont 211: A list of open shelters is available on the Vermont 211 homepage. You can also call, text or email Vermont 211 to find an open shelter (see contact details below).


Food
Vermont Foodbank: Use the organization's agency locator to find a food bank near you. There are more than 300 community partners in the organization's network.


Medication
Pharmacies: Pharmacists can choose to provide residents with a 30-day supply of maintenance medications at temporary locations under an executive order issued by Gov. Scott. Contact your pharmacy for more information.



Financial assistance
Flood Damage Business Form: The state is asking businesses impacted by the floods to submit details about their damages via Vermont 211. These submissions will help the state apply for funding from the Federal Emergency Management Agency (FEMA).

SBA Disaster Loans Fact Sheet: A fact sheet by the U.S. Small Business Administration on Vermont disaster loans, credit requirements, interest rates and more.

Vermont Small Business Development Center: Explore a disaster recovery guide for businesses and updates on the recent floods via a news webpage.

ACCD Severe Storm Recovery Resource Center: A webpage by Vermont's Agency of Commerce and Community Development (ACCD) with information on the recovery process and available resources.

The Severe Storm Recovery Newsletter: A digital newsletter by the ACCD on recovery efforts, disaster loans and other types of aid. Sign up online to receive the newsletter.


Mental health
The Disaster Distress Helpline: 1–800–985–5990 is a toll-free helpline by the federal Substance Abuse and Mental Health Service Administration. Anyone experiencing distress as a result of the disaster can call or text this number to receive immediate, free and confidential counseling from trained professionals. Services are available in multiple languages.

988 Suicide & Crisis Lifeline: 988 is a free and confidential helpline for people in distress. Anyone needing crisis support can call or text the number, or chat online via the webpage.


Mail
Safe at Home: Because the Montpelier post office is closed, the secretary of state's office will pick up and deliver mail to participants of Safe at Home, an address confidentiality program. Call the program's hotline at 802-828-2363 for more information.



For older adults
The state's Department of Mental Health has created a webpage specifically for disaster-related resources that support older adults.


Volunteering
Gov. Scott has called on volunteers to help with the disaster. Register to volunteer via the state's volunteer portal.

The state's Office of Professional Regulation also will issue free, temporary licenses to out-of-state professionals able to help during the emergency. Professions eligible for the emergency licenses include architects, engineers, property inspectors, wastewater system designers, pharmacists and well drillers, among others. Find more information on the Office of Professional Regulation's website.



Federal resources
FEMA.gov – Vermont Flooding: President Biden declared a state of emergency for Vermont on July 11, activating federal assistance from the Department of Homeland Security and FEMA for all 14 counties. New federal resources, such as counseling services, are currently available. Financial assistance will also become available soon. Visit the webpage for up-to-date information.


AARP resources
Editor's note: This article was updated on July 21, 2023. It was originally published on July 12, 2023.