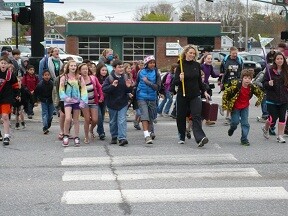 Start your day with a brisk walk to school along with a group of local school children as part of the second annual Vermont Intergenerational Walk and Roll to School Day on May 7, 2014. Last year nearly 50 elementary schools across the state took part in the event by holding a walk/bike to school event in their community and connecting kids with older residents.
"This event really took off last year and we are hoping to build on it this year," said Abby Mattera of the Vermont Safe Routes to School Resource Center. "It's a way to enhance fitness through physical activity, reduce automobile emissions and make the streets safer by relieving traffic congestion. It really brings the community together!"
This year the Vermont Safe Routes to School Resou rce Center is partnering with the Vermont Association for Health, Physical Education, Recreation, and Dance (VTAHPERD) and AARP to encourage walkers of all ages. Organizers aim to bring communities together to celebrate active transportation and healthy lifestyle choices. The event can also help initiate conversations with the community about how walking and biking can improve overall livability, pedestrian safety and healthy lifestyles.
Schools are encouraged to use this event to get started as a Safe Routes to School Resource Center Partner, move towards the next partnership level, or kick-off a spring season of walking and rolling!
Remember, Walk to School Events come in many shapes and sizes:
- Walk TO school
- Walk TO school from a meeting location (such as a grocery store, park or church parking lot)
- Walk AT school
- Walk FROM school
"We encourage interested residents to contact their school administrators or PE teachers to get something going in their community," said Mattera. Partner schools who register their event will receive FREE incentive items from the VT SRTS Resource Center! Please see the Resource Center's website for tip sheets and other program resources.

To register or see a list of participating school visit: http://vtwalkandroll2014.eventbrite.com
For additional information on these or other VT SRTS happenings visit www.saferoutesvt.org or contact: VT SRTS Resource Center, Outreach Manager, Abby Mattera, 802.598.8651, abby@saferoutesvt.org