The City of Winooski's first-ever parklet project is coming to Main Street.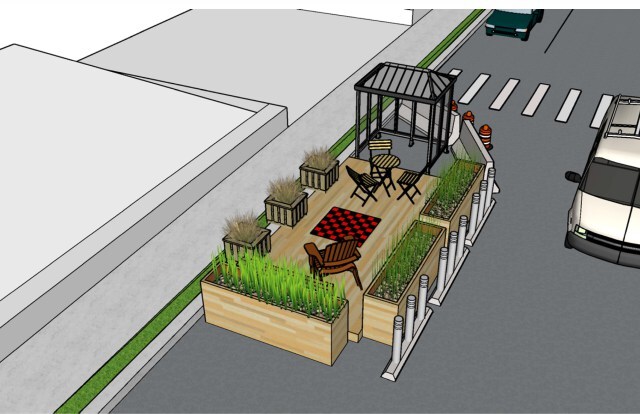 What is a parklet?
Parklets are public seating platforms that convert curbside parking spaces into vibrant community spaces. Most parklets have a distinctive design that incorporates seating, greenery, and/or other pedestrian-friendly features.
About the project
On March 27 th, 2018, AARP awarded the City of Winooski Community Services Department with their Placemaking Demonstration Project Grant in the amount of $3,000. These funds will be applied to creating a special seasonal parklet that will be located in front of 300 Main Street. Weather depending, the parklet will be installed on August 4 th, 2018 and will remain on Main Street until October 2018 using on-street parking spaces. This small portion of Main Street offers easy access to new businesses, residential developments, and close proximity to the Winooski School District.
Project goal
The AARP Placemaking Demonstration Project Grant focuses on helping communities create and enhance physical spaces – encouraging livability, walkability, wellness, and healthy aging for seniors. By creating this parklet, The City aims to continue our efforts in increasing pedestrian access to safe public places for all people to gather.
Programming information
Community Services Departments will be hosting three events during this project:
Winooski Senior Center – "Picnic in the Parklet" 8/7/18, 12 PM – 1:30 PM
Winooski Rec. & Parks – "Play in the Parklet" 8/15/18 – 1 PM – 3 PM
Winooski Memorial Library – "Pop-up Library in the Parklet" 8/22/18, 12 PM – 2 PM
Full program details and Facebook event pages TBA.
A call to action
In addition to small events hosted by the Community Services Department, the City of Winooski invites our community members, businesses, and organizations to lead activities or programs in the parklet! Dates are flexible between August and October. If you are interested in hosting a small, inclusive, free-and-open-to-all community event please contact our Community Engagement & Volunteer Coordinator, Aphaia Lambert-Harper:
alambertharper@winooskivt.org / 802 655 6410