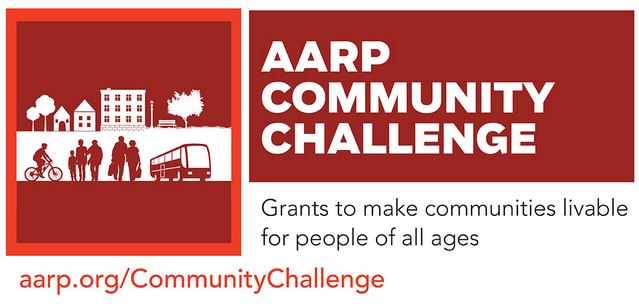 Communities across the nation are working each and every day to become more livable for residents of all ages.

In support of that work, AARP is excited to be able to provide funding to organizations through the AARP Community Challenge to help them jumpstart progress on ongoing work. These "quick action" grants are being distributed to 129 organizations. The Community Challenge grants provide communities with the chance to fund innovative projects that can inspire change in areas such as transportation, open spaces, housing, etc. to improve the community and make it a better place to live for all Washingtonians.

After a successful 2017, with 90 grantees, this initiative is now in its 2nd year, and it has increased its investment to over $1.3 million in the form of 129 grants – including one here in the District of Columbia.

Capitol Hill Village is receiving grant funding for a transportation training program, set to increase senior mobility and community access as well as improve the physical and mental wellbeing of its residents.

Molly Singer, Executive Director of Capitol Hill Village, notes, "Capitol Hill Village is honored to receive this award and to be a part of building models for communities across the US. Thanks to AARP for its investment in new ideas and pilots."

The project will increase the awareness, knowledge and confidence among low-income older adults to utilize technology and transportation options for mobility and access to services. Being not only socially engaged outside of their homes, but supported by services that increase their quality of life is of paramount importance to Capitol Hill Village.

Here are a couple of things the Capitol Hill Village aims to complete through this grant:

Design and run transportation training – in various forms, including speakers, handouts and practice activities
Promote and recruit attendees to ensure at least 50 people participate
Evaluate those trainings and make sure they're helpful, worthwhile and indicative of change
Create pilot materials as a means of documenting work and creating templates and assessments for the future.
AARP DC State Director Louis Davis, Jr. notes, "AARP DC works to make the District a great city for all ages to live, work and play. Transportation is key in a livable community. We look forward to tracking the progress of this project and learning from it."

To learn more about the work being funded by the AARP Community Challenge grant program across the nation, visit aarp.org/CommunityChallenge. And to learn more about how AARP is working to make communities across the District and across the U.S. more livable for all residents, visit aarp.org/livable.