En español | Who is eligible to get vaccinated?
Who's eligible for booster shots?
Adults 65 and older and people ages 18 and up with underlying health conditions or who work or live in settings that put them at high risk for COVID-19 exposure are eligible for a Pfizer or Moderna booster shot, the Centers for Disease Control and Prevention (CDC) says. People 18 and up who got the Johnson & Johnson vaccine can get a booster dose at least two months after the first shot.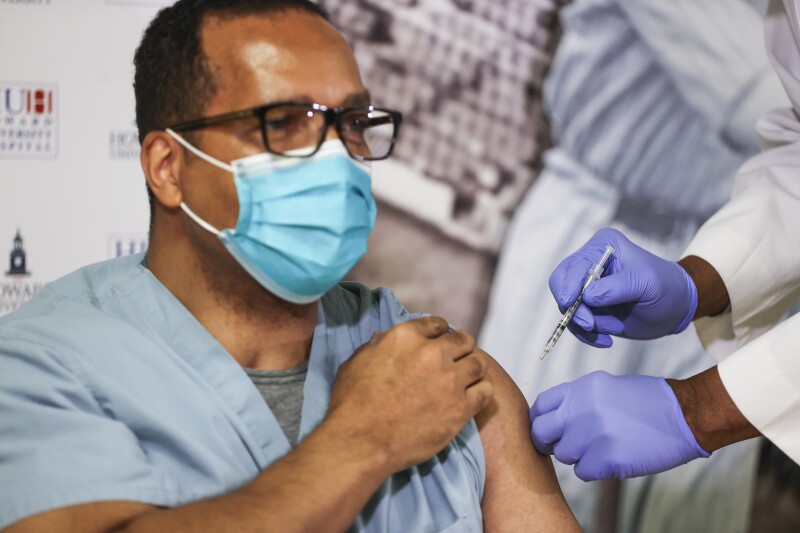 Third doses of Pfizer and Moderna, distinct from boosters, are available for specific immunocompromised people, including organ transplant recipients and certain cancer patients. If you're immunocompromised and think you may be eligible for a third shot, the CDC recommends talking with your health care provider.

Can I mix and match boosters?
It's safe and effective to choose which vaccine you receive as a booster - whether it's the one you got initially or another vaccine, according to CDC recommendations.

Where can I get a vaccine or a booster?
Government-run vaccine sites, including clinics with walk-ins are offering first and second shots and boosters. You can use the health department's website to find a site near you. All unvaccinated and homebound residents can book an appointment for in-home vaccinations through the DC Health call center at 855-363-0333. Washington, D.C.'s COVID-19 data dashboard is tracking how many people have been vaccinated in the District.
Retail pharmacies: CVS and Walgreens are offering first shots and boosters with no appointments necessary, but you can follow the links to schedule an appointment. Giant Food, Safeway and Costco have vaccination appointments available. Follow the links to book online. Note that some pharmacy websites require you to answer questions about your vaccination status before presenting the option for a booster.
The federal government's vaccine website, www.vaccines.gov, lets you search for first shots and boosters by zip code, with links to appointments. Get the same information by texting your zip code to 438829 or by calling 800-232-0233 (TTY: 888-720-7489).
Transportation assistance is available at no cost to enrollees of the District's Medicaid Managed Care Organizations. To request transportation to and from your vaccine appointment, call the following health care organizations:


AmeriHealth Caritas DC. Call 800-315-3485. Rides available 24 hours a day, 7 days a week
CareFirst Community Health Plan DC. Call 855-824-5693. Rides available 24 hours a day, 7 days a week
Health Services for Children with Special Needs. Call SET Transportation at 866-991-5433
MedStar Family Choice DC. Call 866-201-9974
What should I bring to my vaccination appointment?
Some vaccination sites ask for proof of identity or eligibility. Officials recommend that you bring a driver's license or other state-issued ID that shows your name, age and state residency, and your health insurance card, if you have one. You will not be charged, but the vaccine provider may bill your insurer a fee for administering the vaccine.

How are vaccinations working in nursing homes and long-term care facilities? 
Most residents and staff of Washington D.C.'s long-term care facilities were offered first and second doses through a federal program that provided free on-site vaccinations in late 2020 and early 2021. The program has ended, but the federal government continues to allocate COVID-19 vaccines and boosters to pharmacies that are partnered with long-term care facilities to provide vaccinations, mainly on-site.

Facilities that don't have a pharmacy partner are encouraged to work with local or state health departments — or the federal government, if need be — to provide vaccinations.

AARP is calling for mandatory COVID-19 vaccinations for nursing home residents and staff. The federal government has ordered all nursing home staff be vaccinated in order to receive Medicare and Medicaid dollars. The District government has issued a COVID-19 vaccine mandate for all city health care workers with a deadline of Sept. 30.

Which vaccines require two initial shots?
Both Pfizer and Moderna require two doses. If you get one of these, you'll need a follow-up dose to be effectively immunized. Johnson & Johnson's vaccine requires just one shot. A Food and Drug Administration warning says the vaccine has been connected with rare, severe blood clots in a small number of recipients, especially in women age 50 years and younger, and an increased risk of developing Guillain-Barré syndrome, a rare neurological disorder.

Do I have to pay for the vaccination?
You should not have any out-of-pocket costs for getting the vaccine. AARP fought to make sure the federal government is covering the cost of the vaccine itself.

There are reports of scammers purporting to offer COVID-19 vaccines and treatments and trying to charge for them. AARP's Fraud Watch Network is tracking the latest scams.

What should I do with my vaccine card?
You should get a small white card at your vaccination appointment with your name, birth date, name of the vaccine you received and the date it was administered. If you receive the Pfizer or Moderna vaccine, bring your card when you get your second shot.

You may need your vaccine card to schedule a third vaccine dose, for certain immunocompromised people, or a booster shot. You may also need it for certain kinds of travel or other activities and may want to take a photo of it with your smartphone for your own records. But experts warn that posting a photo of your card to social media could make you vulnerable to identity theft.

If you've lost your vaccine card, call the site where you were vaccinated to request a new one or a copy of your vaccination record. You can also contact the District's health department to request a replacement card or a copy of your record.

When will kids be able to get vaccinated?
Pfizer's vaccine is authorized for those age 12 and older; the Moderna and Johnson & Johnson vaccines are authorized for those 18 and older. The White House has announced plans to distribute and adminster the Pfizer vaccine for children age 5 to 11 if and when it's authorized by the FDA and recommended by the CDC, which could happen in the next few weeks. Both Pfizer and Moderna are researching how their vaccines work in children as young as 6 months.

How protected am I post-vaccination? I've heard about breakthrough infections.
All three vaccines reduce the risk of COVID-19 infections and are highly effective at preventing severe illness and death from the disease. But no vaccine is 100 percent effective and breakthrough infections, while rare, have been reported.

According to data from the Kaiser Family Foundation, breakthrough infections affect only 0.01 to 0.29 percent of fully vaccinated people in states that have reported data. The CDC is tracking the tiny percentage of fully vaccinated people in the United States who have been hospitalized with or died from COVID-19.

Should I still wear a mask after getting vaccinated? 
It takes two weeks to build immunity after the single-dose shot and after the second dose of the two-dose shots. Due to the continuing circulation of the Delta variant, the CDC is recommending fully vaccinated people in areas with high and substantial COVID-19 transmission wear a mask in indoor settings, including schools. The CDC also recommends continuing to wear a mask on planes, buses and trains and other shared transport while traveling into, within or out of the United States.

This guide was updated on Oct. 22 with new information on the availability of Moderna and Johnson & Johnson boosters.

Also of Interest: