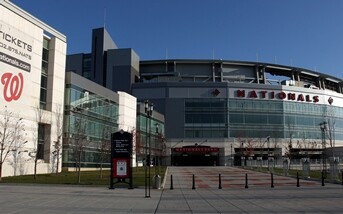 Looking to earn some extra money? Are you a people person? Love baseball? Live in the Washington, DC metro area? Well, we've got an opportunity for you!



The Washington Nationals (Guest Services, Promotions Team, and Box Office), Game Day Merchandising (Nationals Park retail partner), and Levy Restaurants (Nationals Park Food and Beverage Partner: concessions, catering, and clubs) are looking for honest, friendly, gracious individuals capable of working with large groups of people—always with a smile on their face and always being friendly!



Join the Nationals on February 14th and 15th for their TEAM Service Job Fairs at Nationals Park. AARP candidates may call to schedule an interview between 1:00 and 4:00 pm on February 14th, or 8:00 to 11:00 am on February 15th. Please call Charlie White at 202-640-7582 to schedule an interview. Walk-ins will not be interviewed.



Dress in professional attire and bring your resume, or other written material that will help you transfer job experience to your application.



All available positions with detailed job descriptions and requirements will be posted in the receiving area for candidates to consider when they are waiting for an interview. Candidates may interview for more than one position and will complete one application per company if they are interested in being considered for multiple jobs. Potential employees must pass a background check in order to work at Nationals Park. Each position is part-time, seasonal and will require a uniform. Available positions include Guest Experience Representatives, Promotions Team Members, Box Office Specialists.

The Washington Nationals are proud to be an AARP Work Reimagined pledge signer. AARP Work Reimagined is the first talent exchange dedicated to helping companies find experienced workers and to helping experienced professionals connect to more satisfying careers.   AARP's program brings together experienced workers, peers, employers, and world-of-work experts, to help job seekers navigate the new reality of using social media to find employment.