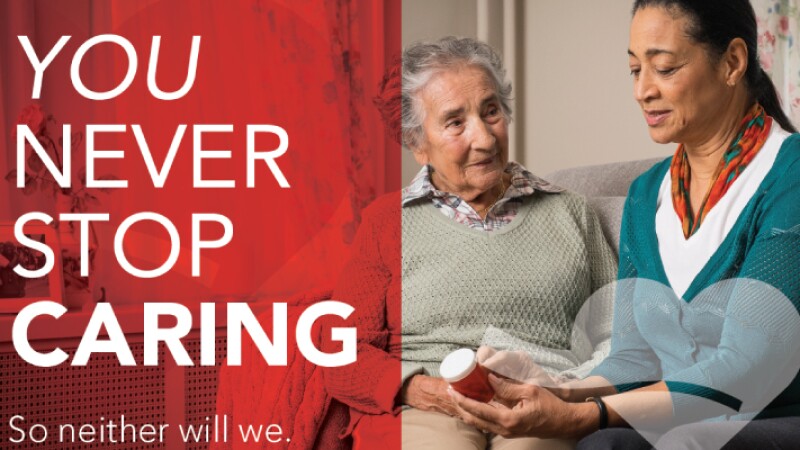 Caring for a parent, spouse, or other loved one can be a 24/7 job that is emotionally, physically and financially difficult. That's why AARP works tirelessly to support family caregivers, striving to make your big responsibilities a little bit easier.


RESOURCES
AARP Family Caregiving Site
AARP is here to help with information and resources on caregiver life balance, financial and legal issues, care at home, health and more.
Community Resource Finder
Easily access a comprehensive listing of dementia and aging-related resources such as care providers, programs and services available in a specified area.
Quick Tips for Caregivers
Check out how to use simple household items to solve everyday challenges.
Legal Counsel for the Elderly
Legal Counsel for the Elderly provides free legal and social work services to DC residents 60 and older – empowering, defending and protecting vulnerable seniors. For more info, call the LCE Hotline: 202-434-2120.

Iona Resource Guide
Iona Senior Service's Resource Guide everything from caregiver resources to housing options in the metropolitan Washington, DC area. You can view the entire guide from online and download a PDF version.

DC Caregivers Institute
Funded by the DC Department of Aging and Community Living, the DC Caregivers' Institute supports and educates unpaid caregivers who have primary responsibility for older DC residents.
LOCAL EVENTS


A Comedy Kickback for Millennial Family Caregivers
1 in 4 family caregivers is a Millennial (23-38 years of age). If you know someone of this generation who is caring for a loved one, please invite him or her to register for a FREE celebration of Millennial family caregivers with food,comedy and music!

Wednesday, November 20, 6:30 - 9:30 pm | Busboys & Poets - Anacostia

Register at aarp.cvent.com/ComedyKickback

CAREversations
Caring for a friend, family member or loved one? You're not alone. Join us for this lightly facilitated conversation about family caregiving.
Discover five key steps to aid you in your caregiving journey.
Connect and exchange tips with fellow caregivers.
Explore local caregiving resources available in your community.
Tuesday, November 5, 6 – 8 pm | Busboys and Poets – Brookland
Tuesday, November 19, 6 – 8 pm | Hampton Inn & Suites in Navy Yard

Register for either event at aarp.cvent.com/carewadc


FIGHTING FOR YOU

Support at home and in your community
Many family caregivers in the District of Columbia have loved ones who rely on home and community services for meals, personal care, and/or trips to the doctor—all to remain in their homes. Without these critical programs, District caregivers would face an even bigger burden and seniors could be forced into nursing homes, costing taxpayers more. That's why AARP DC worked with the Council of the District of Columbia to not only protect, but increase funding in the budget for these critical services for the older residents who need them most. To join the fight for family caregivers and their loved ones, sign up to be an e-activist.


The CARE Act, for when your loved one enters the hospital
AARP DC successfully advocated for passage of the CARE (Caregiver Advise, Record, Enable) Act that helps family caregivers from the moment their loved ones go into the hospital to when they return home. The CARE Act requires hospitals to:
Ask each patient if he or she wishes to name a family caregiver.
Record the name of the family caregiver on the medical record of the patient.
Inform the family caregiver before their loved one is to be discharged.
Provide the family caregiver with education and instruction on the medical or nursing tasks he or she will need to perform for the patient at home.
Learn more about the CARE Act and get your free wallet card to keep with your insurance card.

New Law Creates Caregiver Advisory Committee
AARP's National Volunteer President Catherine Alicia Georges serves on the RAISE Family Caregiving Advisory Council, created by a bipartisan federal law that AARP fought hard to pass. The Council is charged with developing a national strategy to support family caregivers that includes communities, providers, government, and others. Learn more about the RAISE Family Caregiving Advisory Council. Share Your Story, Get a $25 Gift Card
Share your story about caring for your parent, spouse or other loved one and AARP will give you a $25 gift card for gas, groceries, or anything you need to help make your responsibilities a little bit easier. Click here to share your family caregiving story.