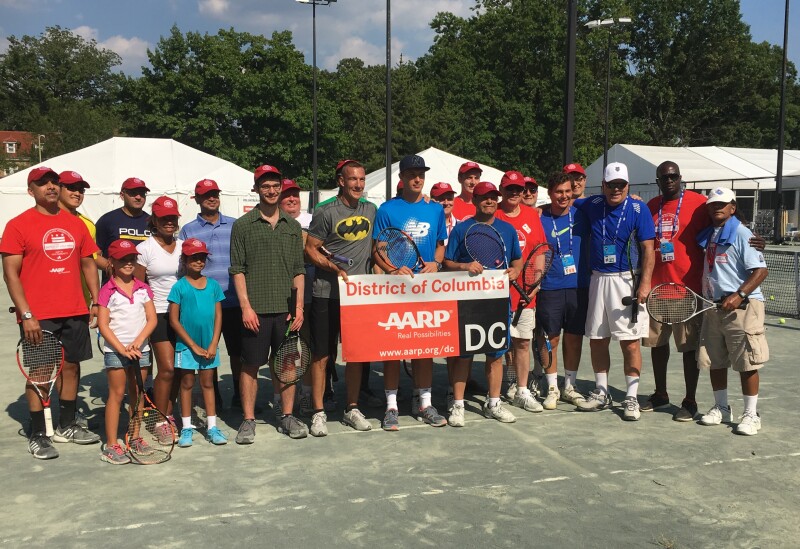 Update as of July 16, 2018: Thank you for your interest in this activity with AARP DC. We have reached the event capacity of 50 participants. You may still register for the waitlist, but we cannot guarantee that a spot will be available for your participation.

###

Turning 50 is one of life's great milestones. At AARP, we believe that possibilities only expand as you age, and that is worth celebrating. So, as the Citi Open Tennis Tournament celebrates 50 years of professional tennis in the District, we will be there.

Date: Saturday, August 4, 2018

Time: Clinic from 10:30 - 11:30am & Match at Noon

Location: Rock Creek Park Tennis Center, 5220 16th St NW, Washington, DC 200011

What to expect:

We'll start the day off at 10:30am with a FREE tennis clinic - available to anyone, of any skill level. It'll be taught by Wayne Bryan, coach of the Bryan brothers, who won the Atlanta Open last year.
Following the lesson, participants will be treated to a Noon match to see the tennis pros in action! AARP DC will be at center court to present an oversized AARP membership card in honor of the 50th anniversary, and you will be there to see it happen live.
Plus, you'll get free AARP swag and have the chance to meet some of the tennis players up close.