AARP is investing in Alaskan communities, by funding projects to install air quality sensors, create an art and cultural trail, provide lifejackets at water recreation locations and create an area for growing fresh food. These 2020 Alaska Community Challenge grant winners will receive a total of $33,304.   

The Alaska projects that have received grants are:


City of Anchorage: This project will provide easily understood air quality data so residents can make decisions about when and where they spend time outdoors.
United Way of Mat-Su (Matanuska-Susitna Borough): Local artists will design and create an art and cultural trail reflective of the community's history.  
Mat-Su Trails and Parks Foundation (Matanuska-Susitna Borough): To increase access to the outdoors, this grant will provide lifejackets at ADA-accessible locations.
University of Alaska Fairbanks, Cooperative Extension (Palmer): People of all ages and abilities will benefit from a new garden for growing fresh food.
"We are incredibly proud to partner with Alaska's grantees as they work to make immediate improvements in their communities, encourage promising ideas and jumpstart long-term change," said Teresa Holt, AARP Alaska director.

"Our goal at AARP Alaska is to support the efforts of our communities to be great places for people of all backgrounds, ages and abilities. The coronavirus pandemic has only underscored the importance of this work."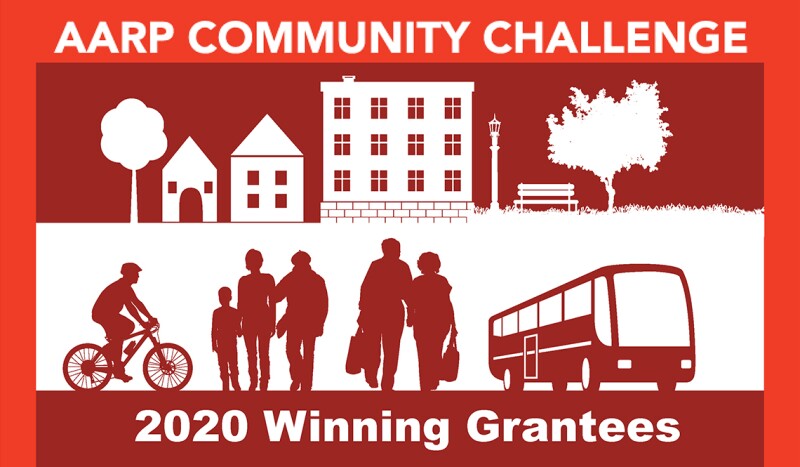 In the largest grant release to date, more than $2.4 million awarded among 184 organizations nationwide this grant cycle. Grantees will implement "quick-action" projects to create more livable communities across all 50 states, Washington, D.C., Puerto Rico and the U.S. Virgin Islands. 

All of this year's projects are designed to achieve one or more of the following outcomes:


Create vibrant public places by improving open spaces and parks and activating main streets.
Deliver a range of transportation and mobility options by increasing connectivity, walkability, bikeability, wayfinding, and access a wider range of transportation choices.
Encourage the availability of a range of housing by increasing accessible and affordable housing solutions.
Increase civic engagement and demonstrate the tangible value of "Smart Cities" by bringing together local leaders and residents from all backgrounds to address challenges.
Support coronavirus response and recovery efforts by ensuring older adults' access to information, essential services, and civic life.
The Community Challenge grant program is part of AARP's nationwide Livable Communities initiative, which helps communities become great places to live for residents of all ages. View the full list of grantees and their project descriptions at www.aarp.org/communitychallenge and view an interactive map of all of the Community Challenge projects and AARP Alaska's livable communities work at www.aarp.org/livable.