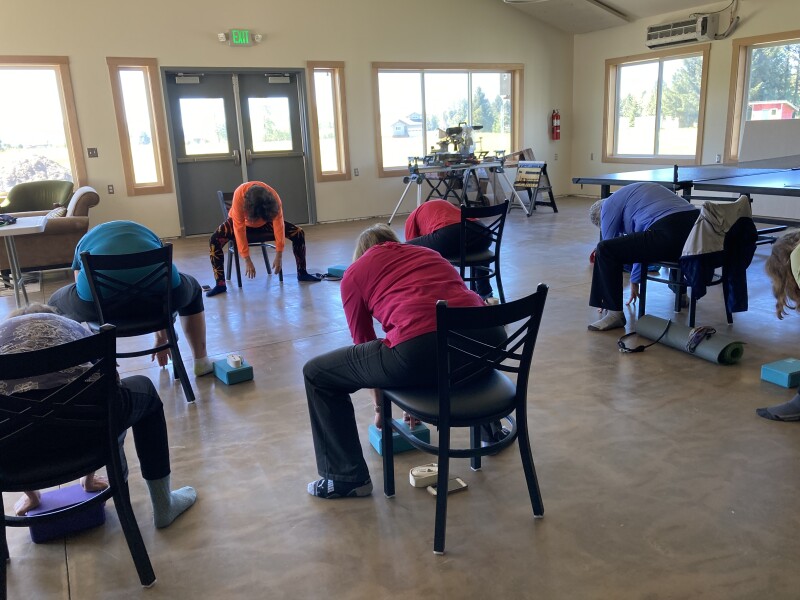 GUSTAVUS, AK— Using funds from a 2020 AARP Community Challenge Grant, non-profit Gustavus Community Center (GCC) has successfully furnished and equipped their center's fitness room. GCC was awarded funding in October 2020, amid COVID-19 and the center's opening. "The pandemic came at a time when our brand-new facility had just been completed and we were getting ready to open the community's first fitness center," said Board President Sean Neilson. "The Community Challenge Grant helped us to safely open our doors, providing not only new opportunities for physical fitness but critical community connection as well."

Starting in February 2021, GCC was able to allow members to safely utilize their fitness facility, welcoming members to exercise within their family "bubble." Using funding from the Community Challenge Grant, GCC purchased sporting gear to facilitate more outdoor recreation activities for members, as well as fitness and safety equipment ranging from yoga mats and spin bikes to cleaning spray and thermometers.

As of July 5, 2021, Gustavus Community Center has 36 consistent fitness center members. GCC expects these numbers to grow this year as COVID measures within the state continue to be relaxed.

"Our goal at AARP Alaska is to support the efforts of our communities to be great places for people of all backgrounds, ages, and abilities," said AARP Alaska State Director Teresa Holt. "The coronavirus pandemic has only underscored the importance of this work."

The AARP Community Challenge Grant helps cities and non-profit organizations make immediate improvements that spark long-term progress in creating more livable communities nationwide. In 2020, the AARP Community Challenge distributed more than $2.4 million among 184 grant winners (including two-dozen projects specific to community needs resulting from the COVID-19 pandemic).

The Community Challenge grant program is part of AARP's nationwide Livable Communities initiative, which helps communities become great places to live for residents of all ages. View the full list of grantees and their project descriptions at www.aarp.org/communitychallenge and view an interactive map of all of the Community Challenge projects and AARP Alaska's livable communities work at www.aarp.org/livable.