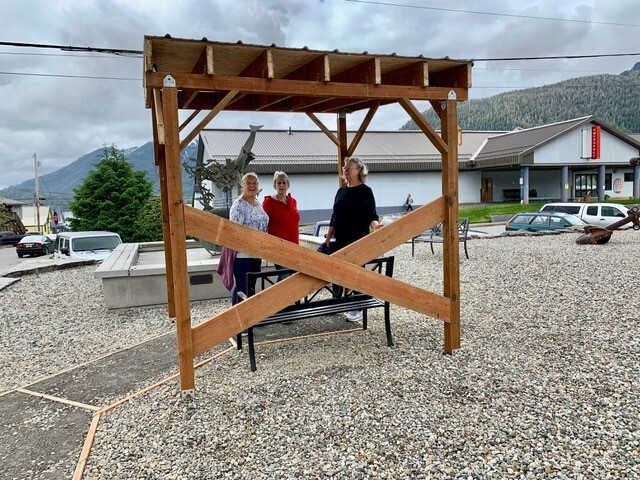 PETERSBURG, AK— With the help of a 2020 AARP Community Challenge Grant, the Clausen Memorial Museum recently completed installation of a covered gathering space. Although closed from March 2020 to June 2021, the outdoor seating provided a hub of community.

"The grant allowed us to install a covered bench area and compacted gravel walkway for Petersburg residents," said Clausen Museum director, Cindi Lagoudakis. "We look forward to having visitors from the Long-Term Care unit at the hospital across the street, students from Kinderskog, and visiting tourists. We love seeing folks from all walks of life using the space."

The AARP Community Challenge Grant helps communities make immediate improvements to what matters most, and jump-start long-term progress in support of residents of all ages.

Lagoudakis predicts that the bench will increase visitation among mobility-impaired members of the community. Clausen Museum plans to partner with the Petersburg Arts Council to use the space for an outdoor music venue in August.

"Community Challenge Grants support on-the-ground improvements to public spaces," said State Director, Teresa Holt. "It's great to see that the Clausen Museum's new outdoor shelter is already bringing residents of all ages together."

The Community Challenge grant program is part of AARP's nationwide Livable Communities initiative, which helps communities become great places to live for residents of all ages. View the full list of grantees and their project descriptions at www.aarp.org/communitychallenge and view an interactive map of all of the Community Challenge projects and AARP Alaska's livable communities work at www.aarp.org/livable.