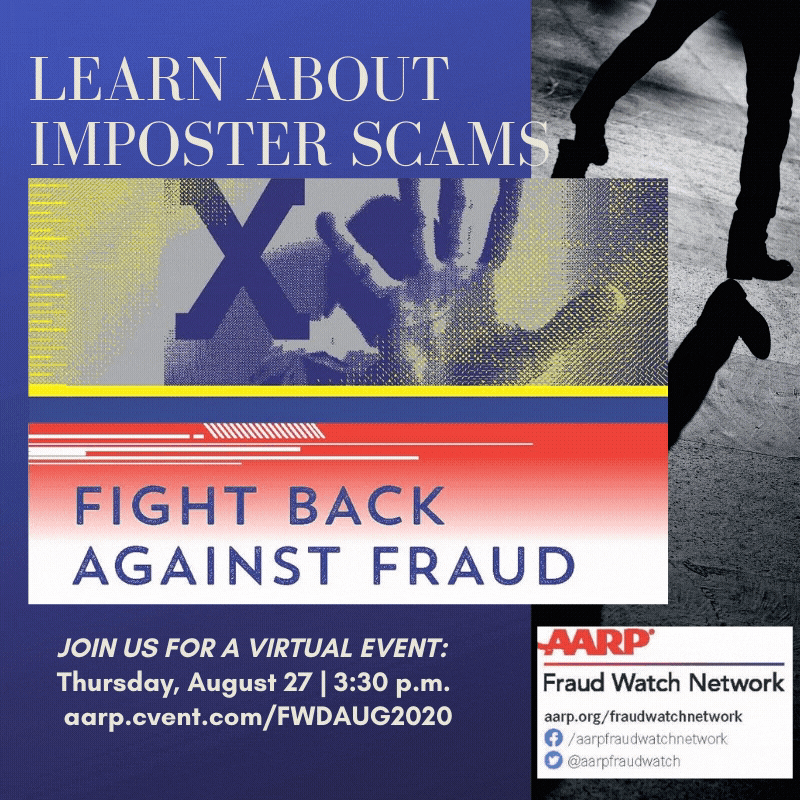 Join the AARP Alaska Fraud Watchdog team on Thursday, Aug. 27, from 3:30 to 4:30 p.m. Hosted by Michelle Tabler, field investigator for Securitas Critical Infrastructure Services, Inc., the team will listen to and then discuss an episode of AARP's The Perfect Scam podcast. In August, the group will focus on "imposter scams."

Register for this free event here.

"We are very excited to have Michelle Tabler volunteering with us on this fraud event. She worked on fraud issues for many years when she worked at the Better Business Bureau," said Teresa Holt, AARP Alaska director. "Come join us and learn about the scams happening across the nation and in Alaska. Then share what you learned with your family and friends. If you can spot a scam, you can stop a scam."

Podcast Synopsis
Episode #62, Utah Couple Loses Savings in an Impostor Scam

In Utah, Machel is busy caring for three of her grandchildren while her daughter recovers from surgery, when she gets a phone call about her Social Security number. The man on the phone claims to be from the Social Security Administration and says that multiple bank accounts have been set up by a drug cartel using Machel's number. He tells Machel that her family is in danger, and she needs to act quickly. She is told that the drug cartel is watching her, so for her family's safety, she is to tell no one what's happening. Especially not her husband, Kyle, a member of the Utah House of Representatives. Kyle shares how he found out about the scam that stole his family's lifesavings.

How to listen and subscribe to AARP's podcasts
Are you new to podcasts? Learn how to subscribe to AARP Podcasts on any device.

AARP's Fraud Watch Network can help you spot and avoid scams. Sign up for free Watchdog Alerts, review our scam-tracking map, or call our toll-free fraud helpline at 877-908-3360 if you or a loved one suspect you've been a victim.