Join AARP Alaska at "What Affects My Brain Health?"-- an event with Dr. Adam Grove of Head To Toe Holistic Healthcare and the YMCA's Erin Widener on Tuesday, Aug. 25, at 2 p.m.

Learn what you can do to keep your brain in tiptop shape! Dr. Grove will talk about how sleep, exercise, what we eat, stress and health conditions affect our brain health. Ms. Widener will share information about two free YMCA programs for maintaining blood pressure and managing diabetes.

"Ninety-three percent of Americans say that brain health is vitally important to them, yet they were not certain what they could do to support their own brain health. This is why AARP is pleased to offer today's presentation," said Daryl Royce, AARP's community outreach director.

Register here: http://spr.ly/6184GlhYG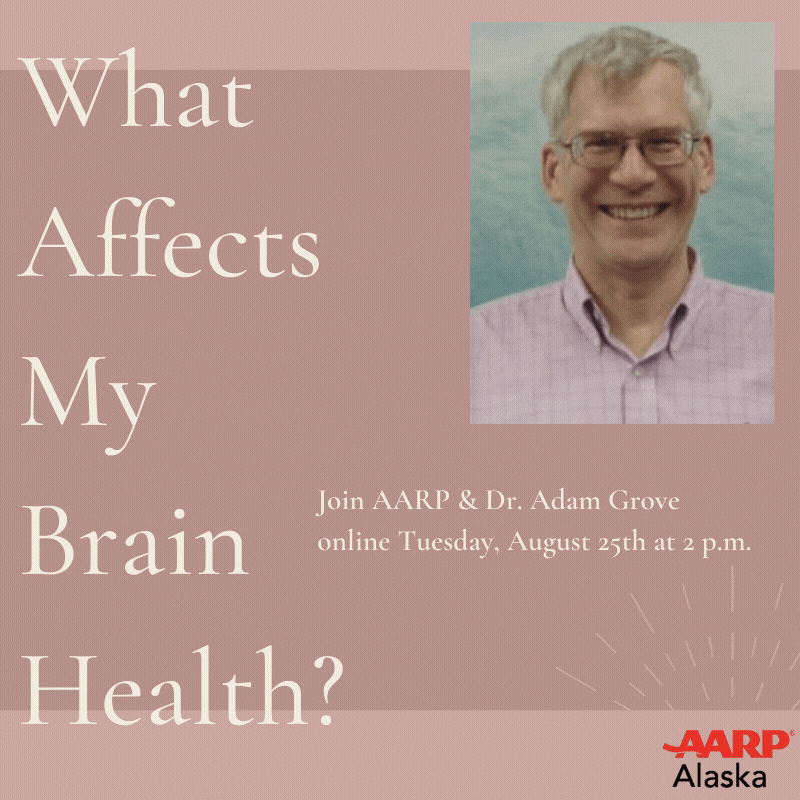 About Dr. Adam Grove:

Dr. Adam Grove is a Naturopathic, family-practice doctor specializing in children and adults with neurological challenges. He also works with people of all ages experiencing symptoms of ADD/ADHD, Autism, and Brain Injury. He emphasizes a "whole-person" focus with attention to accurate diagnosis and holistic treatment for brain-based issues. He uses treatments that are the least invasive which include nutrition, herbs, supplements, neuro-feedback, cognitive training, craniosacral and other physical therapies.

Dr. Grove received his doctorate from Bastyr University in Seattle, Washington in 2002. He also holds a Master of Arts degree in Soviet Area Studies from the Naval Postgraduate School and a Bachelor of Science degree in Aerospace Engineering. He is a member of the American Association of Naturopathic Physicians, Member of the Board of Directors for the Alaska Brain Injury Network and is a member of the Advisory Board for the Center for Educational Improvement. He is a frequent presenter on a variety of topics related to his practice. Dr. Grove lives in Anchorage, Alaska with his wife, daughter and a handful of friendly dogs.