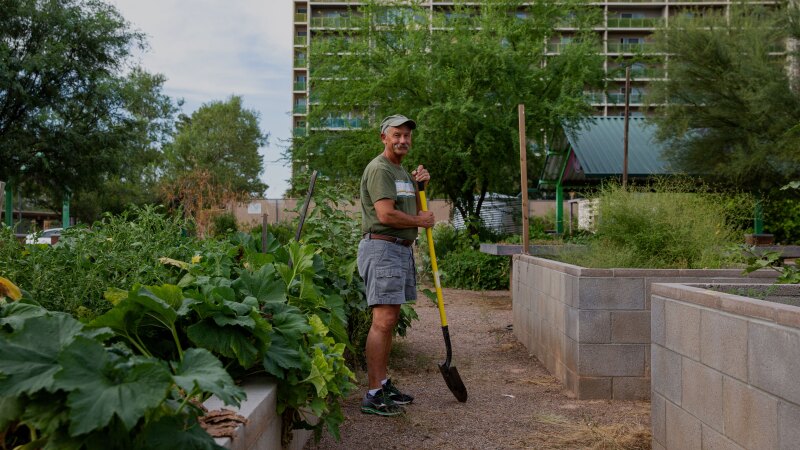 Thanks to an AARP Community Challenge grant, the Blue Moon garden in downtown Tucson is getting an overhaul this year.

The space needed a few improvements to make it safer for and more attractive to the low-income older residents of Tucson House, a public housing development next door.

With help from the grant, the area will get better lighting and security, a composting toilet, and more shade and seating. In addition, gardener education and outreach programs will be offered.

"We're honored and touched by AARP's investment in our mission," says Scott Feierabend, a board member of Community Gardens of Tucson.

The nonprofit, which oversees the Blue Moon and 20 other neighborhood gardens citywide, is one of six Arizona organizations to receive 2021 AARP Community Challenge grants.

"A garden is really a social hub," Feierabend says. "It provides many benefits in addition to the satisfaction of planting and raising fresh, nutritious food."

Since 2017, AARP Livable Communities has awarded more than $9 million to some 800 projects in cities and towns across the nation. The grants are "quick action," meaning they're designed to help local governments, nonprofits and other groups respond to immediate needs in quality-of-life areas.

Along with prioritizing physical improvements and beautification, the panel members select projects focused on innovative, problem-solving ideas.

All of this year's projects are supposed to be completed by Nov. 10. Applicants are also encouraged to collaborate with other groups and seek out additional funding.

Award-winning ideas

"Short-term projects really can bring about long-term change," says Dana Kennedy, state director for AARP Arizona.

This year's winners were chosen from about 70 applicants statewide. In addition to Community Gardens of Tucson, the other grantees are:


Navajo United Way, which will purchase and install bus shelters in Window Rock, Chinle, Fort Defiance and other communities across the Navajo Nation. The shelters are expected to improve ridership on buses that residents rely on to get to work, school, medical appointments and the store.
Willcox Theater and Arts, which is turning a vacant lot in the downtown historic district into a pocket park to celebrate local heritage with murals, art installations and plants, and adding accessible walkways and seating.
Aguila Community Center, which will repair the roof and install new flooring in its facility, which serves as a central meeting place. Among its other uses, the building was a vaccination site earlier this year.
Tucson Home Sharing, which will conduct education and outreach for a project that connects people who have extra room with those who need housing.
The town of Camp Verde Parks and Recreation Division, which is constructing seating at its sports complex. It will place benches along the 1.6-mile Perimeter Loop Trail and around the irrigation retention pond.
For more information and to learn how to apply for next year's AARP Community Challenge grants, visit, aarp.org/livable.

Miriam Davidson is a writer living in Tucson.

What Is a Livable Community?