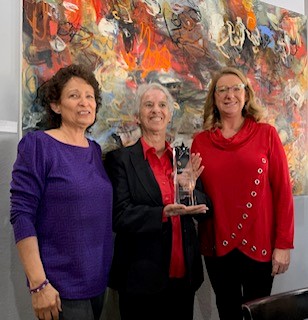 Lavina Tomer has been selected by AARP, the nonprofit organization for people 50 and older, to receive the 2022 AARP Arizona Andrus Award for Community Service, the Association's most prestigious and visible state volunteer award for community service.

AARP Arizona selected Lavina Tomer for her remarkable service, which has greatly benefited her community, reflected AARP's vision and mission, and inspired other volunteers. Some of her highlighted accomplishments include her volunteer work with Southern Arizona Senior Pride from 2014 -2022 as chair of the Steering Committee and volunteer Executive Director. She led a dedicated team of grassroots volunteers in developing programs and services for LGBTQI+ older adults and in Senior Pride's steady growth and success. Lavina continues her commitment by serving on Senior Pride's Board of Directors. As founder of the Wingspan Domestic Violence Project (now SAAF Anti-Violence Project) in 1993 Lavina worked to change state law, make LGBTQ+ domestic violence visible, and to create critical resources. Lavina retired after a 35-year career as a licensed massage therapist.

The award was presented to Lavina at a ceremony on November 3rd in Tucson, Arizona. AARP Arizona State Director Dana Marie Kennedy, Executive Council President Joe Marquart and Associate State Director Community Outreach leader Maria Ramirez-Trillo were all there to help Lavina celebrate her award.

"This award acts as a symbol to the public that we can all work together for positive social change," says Dana Marie Kennedy, AARP Arizona State Director. "AARP has long valued the spirit of volunteerism and the important contributions volunteers make to their communities, neighbors, and the programs they serve."

Recipients across the nation were chosen for their ability to enhance the lives of AARP members and prospective members, improve the community in or for which the work was performed, and inspire others to volunteer.