With aid from an AARP Community Challenge Grant, West Side Grows Together and Be Ready Church & CDC have revealed a new mural at 4th & Rodney Park opposite the landmark Westside church. The mural is in remembrance of the late Pastor Lottie Lee-Davis, a beloved community leader in Wilmington who passed in a tragic car accident earlier this year, and a memorial to her spirit and dedication to the youth of her community.

The AARP Community Challenge is open to 501(c)(3), 501(c)(4) and 501(c)(6) nonprofits and government entities. Other types of organizations will be considered on a case-by-case basis. AARP will prioritize projects with permanent or temporary solutions that aim to increase civic engagement, create vibrant public spaces, or a range of innovative projects that improve the community.

Earlier this year, Be Ready & West Side Grows Together began to work with local artists Crae Washington and JaQuanne LeRoy to provide a visual and inspirational highlight at the park which was previously renovated in 2017 . After Pastor Lottie's departure, the focus shifted to provide an artistic memorial to her legacy. Now, the image of the adored Pastor will watch over all the children who play at the park, surrounded by the career aspirations of the youth from the neighborhood she advocated for.

The mural was made possible with the support of AARP , City of Wilmington , Delaware Community Foundation , State Representative Sherry Dorsey Walker , Be Ready CDC , M&T Bank , and individual donors.

"AARP was pleased to support this mural," said AARP Delaware State Director Lucretia Young. "If it is important to our communities, it is important to AARP."

Sarah Lester, President & CEO of Cornerstone West CDC , the backbone agency of the West Side Grows Together coalition, emphasized the importance of working with local artists and community members
on public art projects. "Pastor Lottie was an advocate for this community. She fought for a better Fourth
Street and for a better future for the people who live and work here, especially the youth."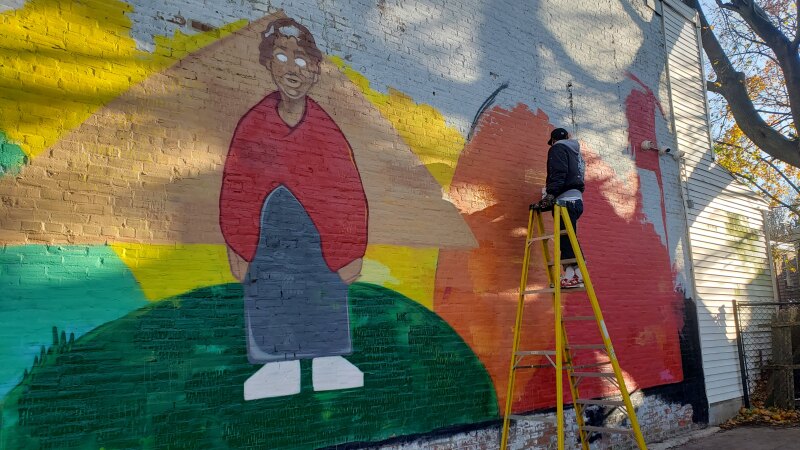 Because of Pastor Lottie and Be Ready's commitment to youth development, the mural depicts future career pathways inspired by local youth who participate in Be Ready's Extended/Remote Learning Day Camp. The youth were asked about their career aspirations and examples of Black excellence, and examples of their responses include careers in the arts, medical professions, social services, education, presidential roles, police, and more.