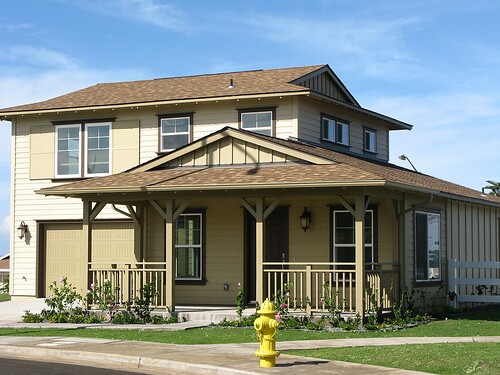 AARP Delaware has been working with New Castle County's Submcommittee on Aging to ensure passage of Ordinance No. 12-057. Once passed, the ordinance will help meet the short and long term housing needs of every segment of the population in the County. By encouraging the integration of Universal Design (UD) Standards into new or substantially renovted housing stock, it will become easier for residents to age in their own homes and communities with the inclusion of minor design changes and improvements. This piece of legislation encourages designers and builders to integrate UD standards into every housing type to ensure availability to consumers. What is UD? Simply put, it refers to key features in one's home that when employed, make the home more accessible for all individuals of all ages.

As one step in the process, State Director Lucretia Young testified before the Land Use Committee to express AARP's support. Her testimony appears below. AARP's Public Policy Institute published a Fact Sheet on UD that is helpful to consumers and policymakers alike.

Testimony before Land Use and Planning Board joint hearing on Ordinance

Lucretia Young, AARP State Director

Tuesday, October 2, 2012, 7 pm

Gilliam Bldg., New Castle

To members of the Land Use and Planning Boards, thank you for this opportunity to express AARP's support of Ordinance 12-057. I am Lucretia Young, AARP's State Director for Delaware. AARP believes that people 50+ should have the opportunity to age with dignity and independence in their own homes and communities, and this Ordinance will take Delaware one step closer to ensuring this will happen.

One of AARP's top priorities is advocating for issues that relate to every Americans' home and family. A key component of AARP's Home and Family initiatives is known as Livable Communities. Livable Communities are places where people of all ages and abilities have affordable and accessible housing and access to public buildings, retail outlets and services, parks, and streets. Livable Communities meet the needs of all residents, and allow them to stay safe and comfortable. Universal Design is an important piece of the puzzle that contributes to creating accessible communities for everyone.

Allow me to highlight some of the key factors illustrating the importance of Universal Design: By 2030, nationwide, the 65+ population is expected to account for nearly 20 percent of the entire U.S. Population. In Delaware, it is expected to be closer to 30 percent since our state is aging faster than most. Additionally, the number of Americans living in multi-generational households is also on the rise. In a 2009 survey of Delawareans, AARP learned that around 95 percent expressed a desire to remain in their homes and communities for as long as possible; but many claim their homes would not meet their needs into the future. All these factors help create a strong case for making homes accessible for our changing needs as we age.

Universal Design is an approach to home building remodeling and community development that creates better ease of movement and safety inside and outside one's home. Features such as lever door handles, no-step entrances and first floor living all contribute to the ability to access services in one's home and live comfortably for many years to come.

It's important for consumers to recognize the cost-effectiveness of employing some universal design features in a newly-constructed home. Retrofitting a home to meet one's needs can become costly and unaffordable.

AARP members tell us they have a desire to remain at home as long as possible. When an individual has the opportunity to be a part of their long standing network of friendships and community ties, they age happier and healthier. They can benefit from the support of neighbors and friends they trust.

On behalf of AARP's 38 million members nationwide, and 168,000 members in Delaware, I offer our support for this very important Ordinance.