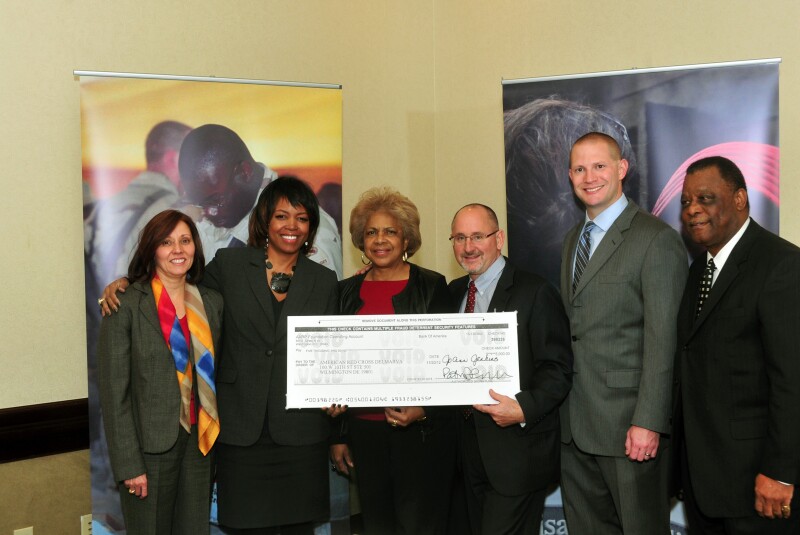 In response to the overwhelming devastation caused by Superstorm Sandy, AARP Foundation established the AARP Foundation Relief Fund and is giving nearly $1.3 million to select organizations working to support victims and communities impacted by the storm, including organizations dedicated to serving older adults. Donations were given nationally to the American Red Cross and locally to organizations in these seven states: Connecticut, New Jersey, New York, Delaware, Pennsylvania, Maryland, and Rhode Island.

Here in Delaware, the Foundation gave $5,000 to Delmarva Red Cross in recognition of their tireless efforts to assist victims of the storm. During the storm, this local Red Cross supported 25 shelters with a population of 1,878 people cross the Delmarva Peninsula. Approximately 70 local volunteers continue to support the response effort. AARP's Delaware State Office presented the check to the Red Cross at their annual board meeting. Pictured here are: Lisa Detwiler, Secretary, Red Cross Board of Directors; Lucretia Young, AARP State Director; Stell Parker Selby, Member, Red Cross BOD; Gary Stockbridge, Chair, Red Cros BOD; Mark Hutton, Vice Chair, Red Cross BOD; John Barnes, Associate State Director for AARP.

AARP Delaware and AARP Foundation encourage people to continue to donate to the relief fund in an ongoing effort to earn AARP's match of contributions dollar-for-dollar up to $750,000, raising the potential contribution to the relief effort by AARP and AARP Foundation to as much as $1.5 million.

"Delawareans have been terrific in their show of support for those affected by Hurricane Sandy," said AARP State Director Lucretia Young. "The initial effects were devastating and made the news, but many families continue to face hardships relating to power, home repair, and lost property. There is still more to do."

Donating through the AARP Foundation Relief Fund's secure web site ensures 100 percent of tax-deductible donations will be used to help the victims of this disaster.