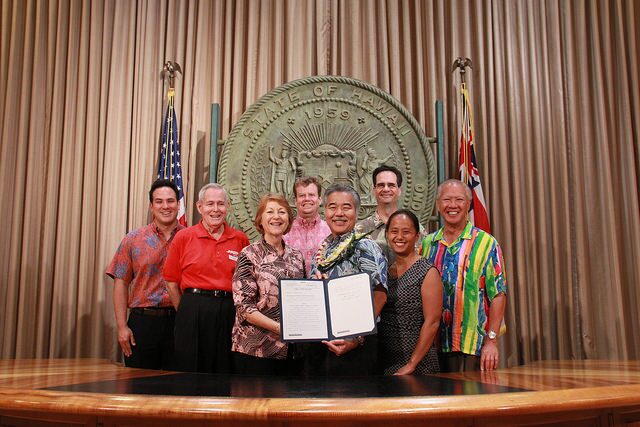 Hawaii Gov. David Ige signed into law today a bill requiring hospitals to establish procedures giving family caregivers the opportunity to receive instruction in the medical tasks required when their loved ones are discharged. The CARE Act – HB 2252 HD1 SD2 CD1 – paves the way for greater consideration of caregivers in hospital discharge processes. The law takes effect July, 2017.
Enactment of the CARE Act is the culmination of three years of legislative advocacy by the Hawaii CARE Act Coalition, whose 21 member organizations have sought greater support for family caregivers and the patients they help to remain at home and out of costly, taxpayer-funded institutional care. Last month, members of the state House and Senate voted unanimously to pass the Caregiver Advise, Record, Enable (CARE) Act, allowing hospital in-patients to designate a family caregiver, who can receive instruction, prior to discharge, in the medical tasks required when patients go home.
"AARP joins the CARE Act Coalition in thanking state legislators for supporting caregivers, and recognizing their critical role in the care of friends and family members," said AARP Hawaii State President Gerry Silva. "We are pleased that Governor Ige has signed into law this important bill that will help caregivers provide much-needed care to the people they love."
There are more than 154,000 unpaid family caregivers in Hawaii, like Waipahu resident Deidre De Jesus, who take on huge responsibilities that can be overwhelming, stressful and exhausting. Deidre, age 24, and her mom, Elvira, took turns providing intense care for their dad and husband, Jimmy, who died of congestive heart failure in 2013 – and was in and out of the hospital numerous times.
"My dad was discharged at least once a month for six months," says Deidre. "It was a difficult transition because we had so much support in the hospital. At home, it was just me and my mom providing my dad with care…. It was difficult for him and for us."
As the state's population ages, unpaid caregivers are under increasing pressure to care for loved ones at home – especially those with chronic conditions who are frequently readmitted. Family caregivers provide increasingly complex care services – including injections, tube feedings, and medication management – to older loved ones at home. Collectively, Hawaii's caregivers provided unpaid care valued at $2.1 billion in 2013 alone.