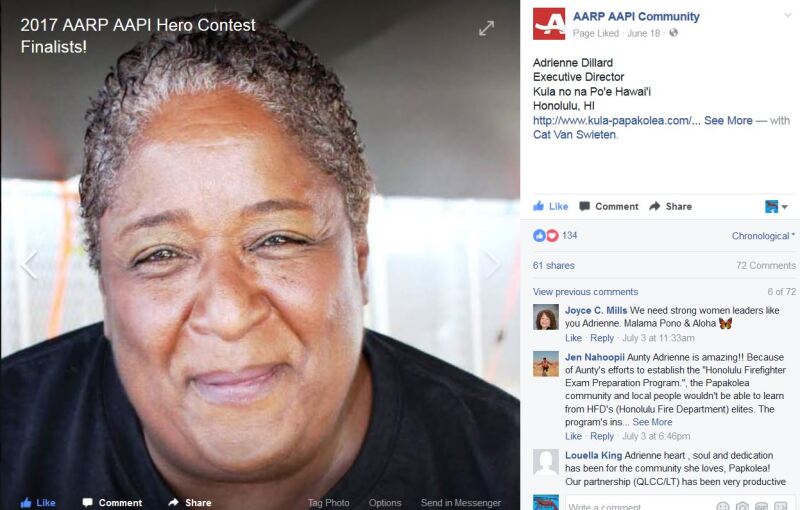 Papakolea's Adrienne Dillard is one of ten finalists for AARP AAPI Community Hero Awards Contest and needs votes on Facebook to become one of the top three winners.

Dillard, the executive director of Kula no na Po'e Hawaii, was nominated for her efforts to build an age- and dementia-friendly community across generations in the Hawaiian Home Lands community of Papakolea on Oahu.

The Kawaihonaakealoa – Papakolea's Elder Service Project – supports kupuna by providing services that will allow them to age safely and remain in their Native Hawaiian community by meeting health, social service and housing needs.

The program offers services to kupuna in Papakolea through partnerships with university programs in public health, social work, medicine and nursing.

The three winners in the second annual AARP AAPI Hero Award will receive $1,000 for them and $1,000 for their non-profit organizations.

The winners are selected through votes on the AARP AAPI Community Facebook page (@AARPAAPI). Go to http://bit.ly/AARPAAPIHero. Click on Adrienne Dillard's photo and Like, Share and Comment on the photo, which includes her biography and description of her organization. Each Like counts as one point, a Share counts as two points and Comments count as three points.

People who are not on Facebook can vote by emailing gasakawa@aarp.org. Each email counts as one vote and please do not vote twice with an email and on Facebook.

The deadline for voting is 11:59 p.m. Eastern Time on Friday, July 14. The top three vote-getters will win.

Congratulations to Adrienne Dillard on her well-deserved nomination. She's just out of the top three and a big push by Hawaii supporters could bring her over other nominees from bigger states.