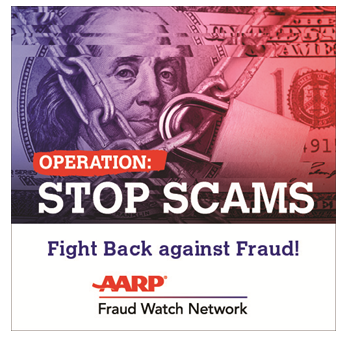 Click on a link, answer a call from "tech support," or even taking a Facebook survey can lead to you being scammed.

Special Agent Edward Arias of the Honolulu FBI Cyber Squad, Lorie Sides from the Hawaii Better Business Bureau and Jackie Boland from AARP Hawaii will talk about how to protect yourself and someone you love from computer scams at a free AARP Fraud Watch Network "Operation: Stop Scams" workshop on Thursday, April 27.

Some common scams to watch out for include:

Ramsomware: A hacker infects your computer with malicious software that prevents you from accessing your files or threatens to destroy your data unless you pay a fee of several hundred dollars to recover it.

Tech Support or Remote PC Repair: A caller, email, or pop-up ad claims to be from a real company such as Microsoft or a fake computer firm and warns that your computer has been infected with malware that will corrupt your files and tries to trick you into giving them full access to your files.

Phishing: Unsolicited emails that resemble emails from real companies like your bank asking you to update your password. It could also be from a friend whose account has been hacked asking you to click to see attached photos that show nothing or an error message. Once you click, you could be giving hackers access to your computer and your personal information.

Facebook Surveys: Con artists set up fake social media accounts, sometimes offering free or discounted merchandise or a contest to get you to fill out a survey or to give them your address and other personal information so they can steal your identity.

The workshop will cover common computer scams in Hawaii and presenters will give tips on how to protect yourself or a loved one and what to do if you think you have been scammed.

The workshop is on Thursday, April 27 from 9:30 a.m. until 11:30 a.m. at the Japanese Cultural Center of Hawaii in Moi'ili'ili. There is no charge to attend, but validated parking is $6. To pre-register to to aarp.cvent.com/scam4-27 or call 1-877-926-8300.

The FBI is the lead federal agency for investigating cyberattacks by criminals, overseas adversaries and terrorists. The Honolulu Cyber Squad investigates computer crimes in Hawaii such as ransomware, identity theft on the Internet, data breaches and cyber espionage.

Special Agent Arias was a senior software engineer for aerospace companies for 12 years before joining the FBI in 1996 in New York, where he was assigned to one of the first Computer Intrusion Squads in the FBI. He worked at the Cyber Specialized Training Unit at FBI Headquarters and was a Cyber Crime Instructor at the FBI Academy in Quantico, Virginia. Arias transferred to the Honolulu Division Cyber Crime Squad in 2006.