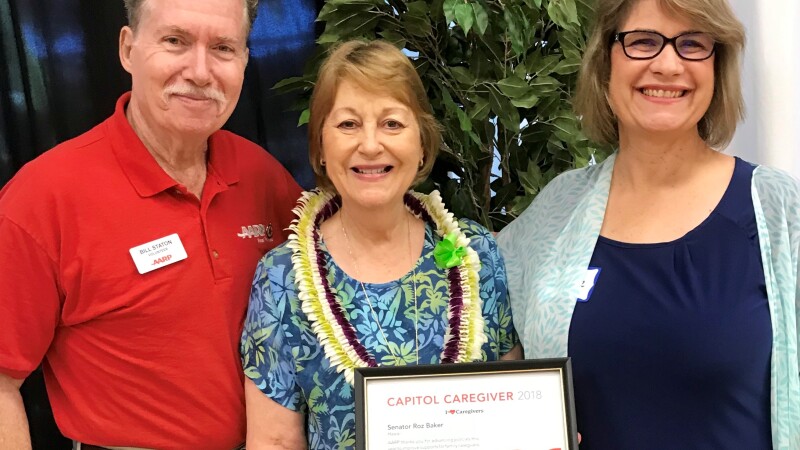 To honor her integral work supporting Hawai'i's family caregivers, AARP named Maui Senator Roz Baker as a 2018 "Capitol Caregiver." Baker is among a bipartisan group of 65 elected officials from 24 states. These leaders advanced policies that support family caregivers, who help their parents, spouses and other loved ones live independently at home and in the community—where they want to be.
"AARP thanks Sen. Roz Baker for championing funding for home- and community-based services, including second-year funding for the Kupuna Caregiver program and her work to create a licensing and inspection process for Aging in Place facilities," said Barbara Kim Stanton, AARP Hawai'i State Director. "She has consistently provided key leadership to help make family caregivers' big responsibilities in a little bit easier."
Baker received her award at the Kaunoa Senior Center in Paia Saturday during AARP Hawai'i's Finance Your Future conference on how to plan and pay for living to be 100. Baker's efforts helped maintain and stabilize state funding that supports Kaunoa Senior Services. This is not Baker's first Capitol Caregiver award. She also received the award in 2017.
Across Hawai'i, 154,000 people provide unpaid care for their older parents, spouses, children and adults with disabilities, and other loved ones— valued at about $2.1 billion annually. They help with bathing and dressing, meal preparation, managing finances, transportation, grocery shopping and more.
"Every day, family caregivers provide invaluable care to their loved ones," Baker said. "It's a tough job. Family caregivers help loved ones continue to live at home, where they want to be. We need to support them."