This year's primary on Saturday, Aug. 8, will be the state's first election to rely almost entirely on mail-in and absentee ballots.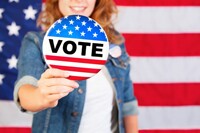 Most of the usual polling places will not be open as voters decide Democratic races for two U.S. House seats and select state and local officeholders.

The registration deadline is Thursday, July 9, to vote by absentee ballot. Register at olvr.hawaii.gov with a county clerk's office to receive an absentee-ballot packet by mail.

Same-day registration and voting will be available at a few voter service centers, starting 10 days before the election. Locations are listed at elections.hawaii.gov and at county clerk's offices.

To confirm your registration, check olvr.hawaii.gov or call your county clerk. Clerk's offices must have all ballots in hand by 7 p.m. on Election Day.