Illinois is expected to announce when COVID-19 vaccines will be available for those aged 65 and older later week, moving the state into the next stage of its multi-phased plan.
The state is currently in phase 1A of its COVID-19 vaccination plan, which covers health care workers and staff and residents at long-term care facilities.
Illinois has administered nearly 384,658 doses of COVID-19 vaccines, having received combined total of 920,225 vaccine doses produced by Pfizer/BioNTech and Moderna. Both vaccines have been granted emergency use authorization (EUA) by the Food and Drug Administration (FDA).
The vaccine news is changing quickly. Check this guide for updates in the days ahead.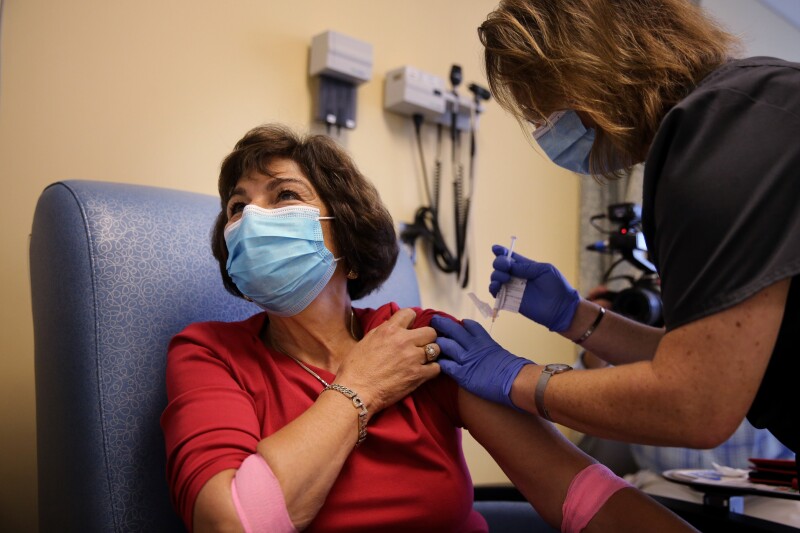 When can older adults get the vaccine?


Probably not for several weeks, pending supplies. Federal health officials announced Jan. 12 they strongly recommend states open vaccines to those age 65 and over, but the recommendations are not mandatory. Illinois Gov. J.B. Pritzker is expected to announce when vaccinations for those age 65 and older can begin later this week, preparing the way for the much-awaited next phase of the vaccination program.

The new recommendations also urge that states give vaccines to all adults with medical conditions that make them more vulnerable to the virus, including diabetes, chronic lung or heart disease, high blood pressure and cancer. The Department of Health and Human Services said Jan. 12 that the federal government would begin releasing all available vaccines, rather than holding back second doses, and that Americans would still be able to get second doses on time.

Illinois is currently in Phase 1A of its distribution plan, which covers paid and unpaid health care personnel, such as nurses, physicians, respiratory technicians, dentists and emergency medical staff. Also included are residents and employees of long-term care and assisted living facilities, along with home health caregivers.

Because not everyone eligible in the first phase has opted to get the shot, Gov. Pritzker said those shots should be made available to phase 1B recipients: those 65 and older and essential frontline workers, such as police officers, teachers, grocery store workers, and postal employees. State health officials say this group may be subject to fine tuning to reflect the impact of COVID-19 in Illinois.

Under Phase 1C, people 16 to 59 years of age with high-risk medical conditions will be offered the vaccine followed by those age 65 to 74 years old. Also included are workers in transportation and logistics, waste and food service, housing construction, public safety, and legal safety, communications, and other essential staff.

Chicago receives independent federal funding and is devising its own distribution roadmap, and roughly mirrors the state plan.

AARP is fighting for older Americans to be prioritized in getting COVID-19 vaccines because the science has shown that older people are at higher risk of death.

Where can I get a vaccine? 

The federal government announced Jan. 12 that it is urging states to work with pharmacies and community health centers to distribute the vaccine to those eligible, and to set up mass vaccination clinics, but it's not clear if and when Illinois will do so.

Current COVID-19 vaccinations are taking place in hospitals and long-term care facilities, but only for those in Phase 1A. As more doses become available, many more vaccination providers should become available, including doctor's offices, retail pharmacies, additional hospitals and federally qualified health centers across the state.

How do I know when I'm able to get a vaccine?



AARP recommends that you talk to your doctor about the safety, effectiveness, benefits and risks of the COVID-19 vaccine. Older adults, especially those with underlying medical conditions like heart disease and diabetes, are at increased risk for hospitalization and death from COVID-19. 



You can get updates about the vaccine's availability for various groups on the Illinois Department of Public Health's COVID-19 website. You can also call the department toll free at 800-889-3931 or send an email to DPH.SICK@ILLINOIS.GOV.

I've heard that some vaccines require a second shot.



The initial COVID-19 vaccines, Pfizer's and Moderna's, require two doses. If you get one of these vaccines, you'll need a follow-up dose a few weeks after your first one to be effectively immunized. "What you have is you get some degree, not optimal, but some degree of immunity a couple of weeks after the first dose," Anthony Fauci, director of the National Institute of Allergy and Infectious Diseases, said in December. "That's not optimal. After the second dose, you get optimal immunity anywhere from seven to 10 days after the second dose."



You may receive a vaccination card or printout that tells you where, when and which type of vaccine you will receive, according to the CDC. The Illinois Department of Health and local health departments will provide information about second dose appointments to recipients at the time of initial vaccination. Depending on the vaccine provider, reminders will be communicated via postcards or electronically through the state's EMTrack patient tracking system. 



The CDC has launched a web tool called v-safe that lets you sign up for text message reminders for your second vaccine appointment and report possible side effects.



How will residents of nursing homes and other long-term care facilities get the vaccine?



The federal government has contracted with CVS and Walgreens to administer the COVID-19 vaccines at no cost to long-term care residents and staff. The two national drugstore chains say that more than 48,000 of the 50,000 skilled nursing and assisted living communities in the U.S. are participating in the program. 



Do I have to pay for the vaccination? 



AARP fought to make sure the federal government is covering the cost of the vaccine itself. But the CDC says vaccine providers may still charge a fee for giving someone a shot. The Centers for Medicare & Medicaid Services has said the vaccine will be administered free of charge to Medicare beneficiaries, with no copays. Some health insurance companies have also announced that there won't be out-of-pocket costs for policyholders.

The Illinois plan allows providers to charge an administration fee but stipulates that it will not be passed on to those receiving the vaccine — even the uninsured. The plan directs providers to seek reimbursement from the vaccine recipient's public or private insurance company.

There are already reports of scammers offering purported COVID vaccines and treatments and trying to charge for them. AARP's Fraud Watch Network is tracking the latest scams.



How long does immunity last after I get vaccinated?



It's not yet known how long immunity from a coronavirus vaccine lasts and whether it needs to be administered on a regular basis, like the flu shot.



Should I still wear a mask after getting vaccinated?



Yes. Experts still need to learn more about the protection the vaccines provide under "real-life conditions," the CDC says. It could also take your body a few weeks to build up immunity after the second dose of a vaccine. And while the Pfizer and Moderna vaccines are effective at preventing symptoms of COVID-19, it's not yet clear whether someone who has been vaccinated can still catch the virus and transmit it to others.

"It's on all of us to keep wearing our masks, keep our distance, and find the patience to allow the vaccines to be distributed so that we can put this difficult chapter in the history books," Gov. Pritzker said earlier this month during a press conference.

The vaccine is just one tool that can help slow the spread of the coronavirus. The CDC says it could take months for the population to build up immunity, and it continues to recommend preventive measures, such as face masks and social distancing. 



AARP has also called for the ongoing monitoring of vaccines once they are authorized for public use, to identify any risks that weren't evident in the expedited development and review process.

Also of Interest:

Read our full coronavirus coverage

This guide was originally published in December 2020. It was updated on Jan. 13 with new information about the state's transition to opening up vaccinations to those age 65 and older.